by Katerina Bogdanoska
---
Team building plays a significant role in enhancing a company's performance and success. When employees in a company work well together, trust each other, and communicate effectively, it improves collaboration, problem-solving, and adaptability. This, in turn, can boost productivity, innovation, and overall company success.
Team building is more than just "the most anticipated event" at Cosmic Development; it's a core part of who we are. We recently gathered for our first big team building since the pandemic, and it was a day filled with fun, growth, and togetherness.
From September 29th to October 1st, our teams from Bitola, Skopje, and Belgrade offices came together for a remarkable three-day team building in the beautiful Aegean coastline near Ouranoupoli in Greece. It was more than just a getaway; it was a reaffirmation of our commitment to employee well-being and teamwork.
Building Bonds: Teamwork and Communication at the Beach
We strongly emphasized effective communication during our team building as we engaged in various activities designed to enhance our teamwork and problem-solving skills.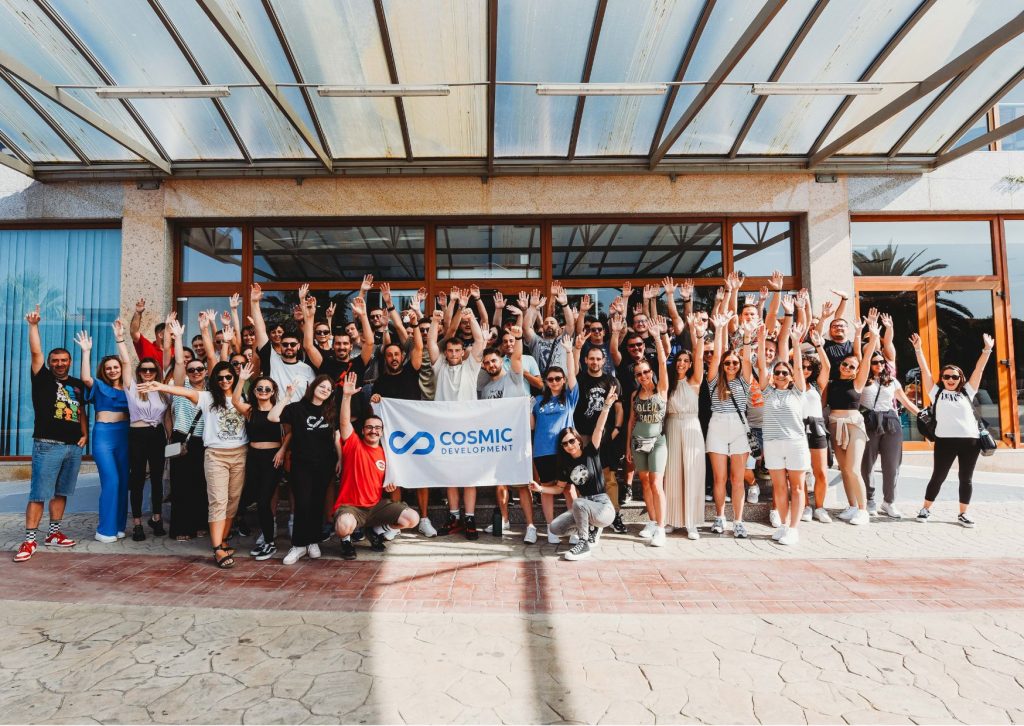 The event started with an icebreaker that set the tone and divided our group into teams, intentionally breaking up cliques and fostering new connections among participants.
These newly formed teams then engaged in a series of competitive team-building exercises, each earning points for the teams. The winning team was the one that had the most points overall at the end.
The team-building started with the "Hula Hoop Challenge," a fun activity that set the mood for the event. With over 100 employees present, we all gathered in a circle, eager to take on the challenge. The aim was not only to successfully pass the Hula Hoop around the circle while maintaining our handhold unbroken but also to promote unity, camaraderie, and teamwork spirit. We enjoyed ourselves and laughed as we cooperated to solve the challenge, demonstrating the importance of creative problem-solving and effective teamwork. This game was a perfect way to start the team-building event, as it strengthened the bonds among employees and reinforced the idea that working together can be both productive and fun.
In the "Back-to-Back Communication Game," we tackled an interesting challenge. Each group was given a unique drawing, ensuring no two groups had the same. This setup provided a valuable lesson on the importance of creativity and the subjective nature of communication. Through this exercise, we all gained a profound appreciation for the crucial role that clear communication plays in achieving the desired results. As we used drawings on the backs of our team members to convey specific words or phrases, it became apparent just how easy misinterpretation can occur. It underscored the necessity of clear communication and effective teamwork within a group.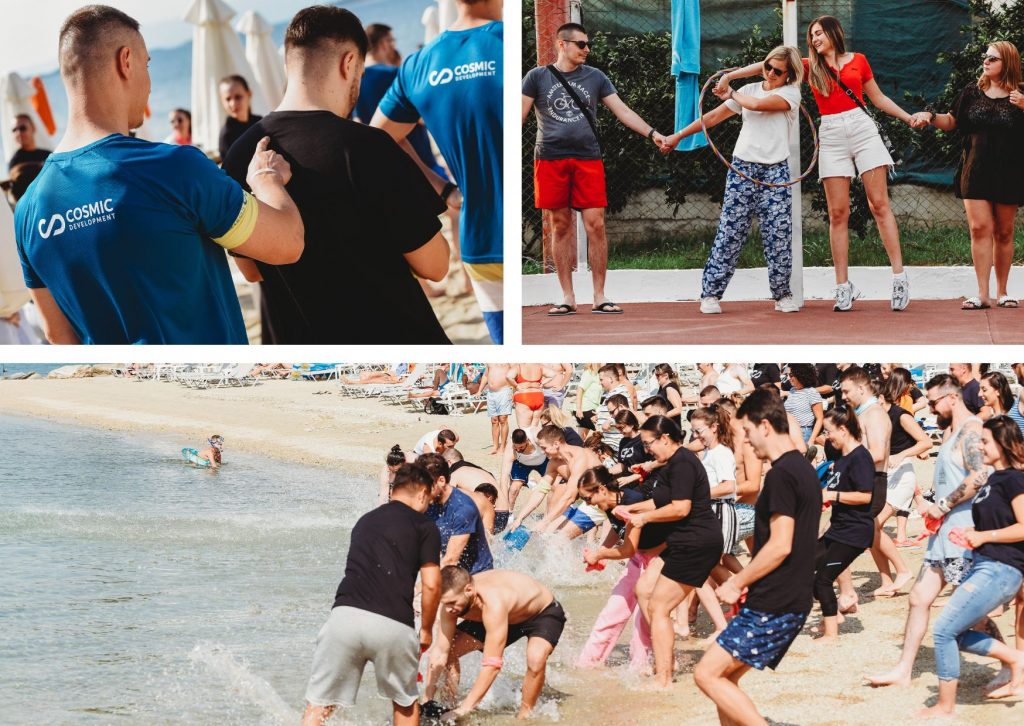 We also enjoyed the "Balloon Race," an interactive activity that involved forming a human train to transport balloons without using our hands. This game highlights the importance of individual contributions and effective team organization, as the activity's success relies on both. Each team needs to work cohesively, ensuring they synchronize their movements to transport the balloons without mishaps. This challenge encouraged us to collaborate seamlessly to maintain the train formation while keeping the balloons intact. The "Balloon Race" is a well-liked team-building exercise, combining elements of coordination, teamwork, and friendly competition.
The "Beach Bucket Challenge" added another exciting dimension to our activities. This challenge revolved around finding the most effective means to collect and transport as much water as possible from the beach, testing our creativity, adaptability, and speed. The essence was to see how resourceful each team could be when they have limited resources at their disposal. It encouraged creative problem-solving and teamwork, making the most of what we had on hand and underlining the value of thinking on our feet to accomplish the task.
These activities strengthened our communication, teamwork, and problem-solving skills while fostering new relationships and having fun.
Evenings of Fun
In addition to our team-building activities, we had some enjoyable informal gatherings and evenings, which allowed us to relax and socialize more casually.
On the first night, we hosted a "Cosmic Party" at the Beach Bar with a DJ, creating an evening of music and dancing for everyone to unwind and enjoy. This lively gathering also provided the perfect moment to present loyalty awards and honor our employees' loyalty and continuous dedication to our company. It was a chance to thank them for their years of service and for sticking with us through thick and thin.
The second evening was even more fun, with a lively karaoke activity. We were divided into five groups, and each group got to draw a ticket with the name of a musical star or group. The options included ABBA, Spice Girls, Aqua, Elvis Presley, and Michael Jackson. Each team was assigned to create an entire event around their chosen star or group, including costumes, choreography, and visual effects. It was a creative and spirited competition.
The teams competed in three categories, with a jury committee scoring them for the best choreography, best costume design, and the overall best stage performance. This activity sparked our creativity and teamwork, resulting in some fantastic and entertaining performances. After the karaoke competition, we continued the celebration with a poolside party.
We also had plenty of free time to enjoy the beach, ensuring a well-rounded and enjoyable experience.
Our Greek team-building wasn't just another company gathering but a celebration of our dedication to our employees. It highlighted the significance of fostering a positive work atmosphere where every team member is appreciated and backed up. As we all grew personally and professionally, our team's connections deepened, adding to our sense of togetherness. We're excited and looking forward to the next phase of our journey.
If you want to join our growing team, check out our careers page for the latest job openings.