by Katerina Bogdanoska
---
Having a website and a strong online presence is the backbone of every business. It has become crucial in ensuring any business's survival and especially important for small and medium companies and startups. Simply put, an effective website will take your business to another level and put you a step ahead of your competition.
However, creating a website can be a time-consuming and exhausting process that requires skill, knowledge, and practice. Fortunately, we live in a time when it has never been easier to create a website, even with zero technical knowledge. With the help of easy-to-use services known as website builders, you can build a high-quality website from scratch.
So, what exactly are web builders and how do they work?
In simple words, website builders are tools that help you quickly and easily create a website with no coding or design skills and without web developers' help.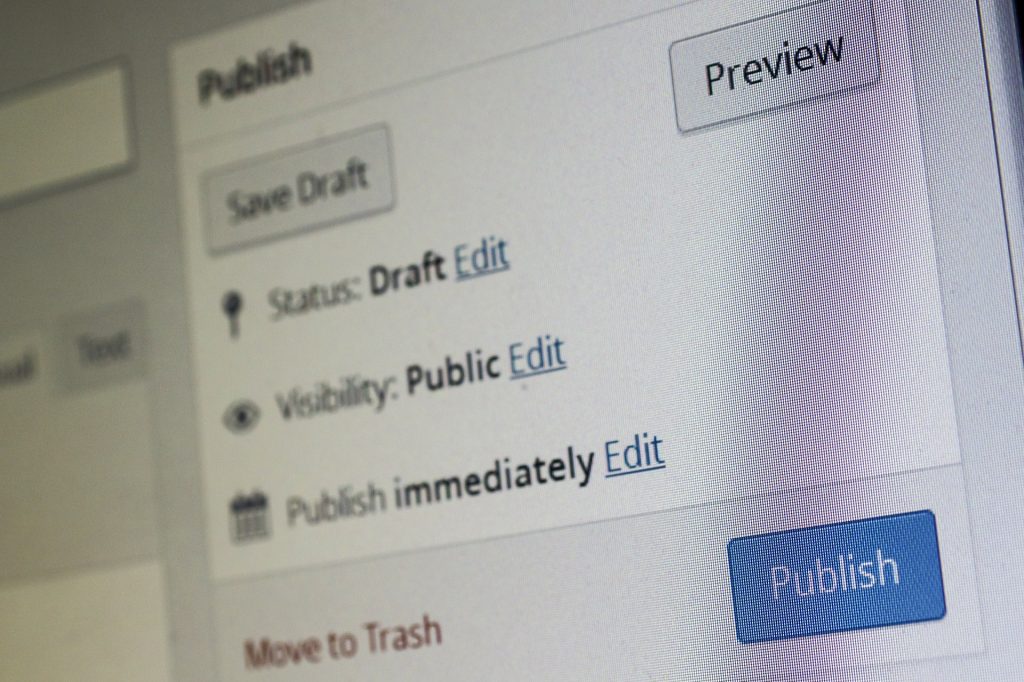 On the plus side, many of them provide hosting and domains. These tools allow both beginners and tech-savvy users to create a fully optimized website within minutes. They are easy to use, have pre-coded templates, analytical tools, SEO tools, and much more. The steps are simple. All you have to do is choose a template from the many available in the website builder's library. Then customize the template design using the drag-and-drop function that allows you to move and add elements like images, video, text, titles, and buttons wherever you want on your page. Upload your content, preview, and publish. That's how easy it is.
Choosing the right online web builder can be overwhelming. It would be best if you made a choice based on your unique needs. However, any good website builder should have the following features:
A drag-and-drop builder
Built-in tech support
Customization option
User-friendly interface
E-commerce solution
A free plan or trial period
Hosting
Lots of quality website design templates and themes
Mobile compatibility
Scalability
Website analytics and reports
To help you choose the best option, we've compiled a list of six of the most popular website builders for 2021 on the market and their advantages and disadvantages:
Bookmark
Bookmark is an AI-based website builder perfect for small business owners with technical, time, and budget limitations. AIDA, its artificial intelligence design assistant, will help you build your website in two minutes. The best thing about AIDA is that you don't need coding or designing skills. AIDA will analyze your needs and walk you through the process, choosing from the million combinations to create a functional and unique website. Then, with their simple drag-and-drop editor, you can further customize your website. Plus, Bookmark is a fully hosted platform.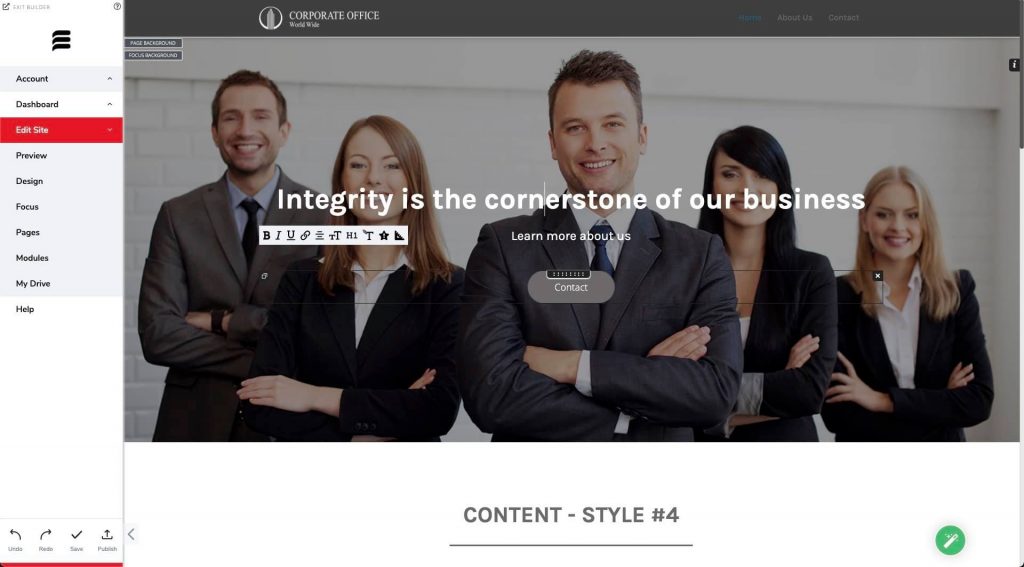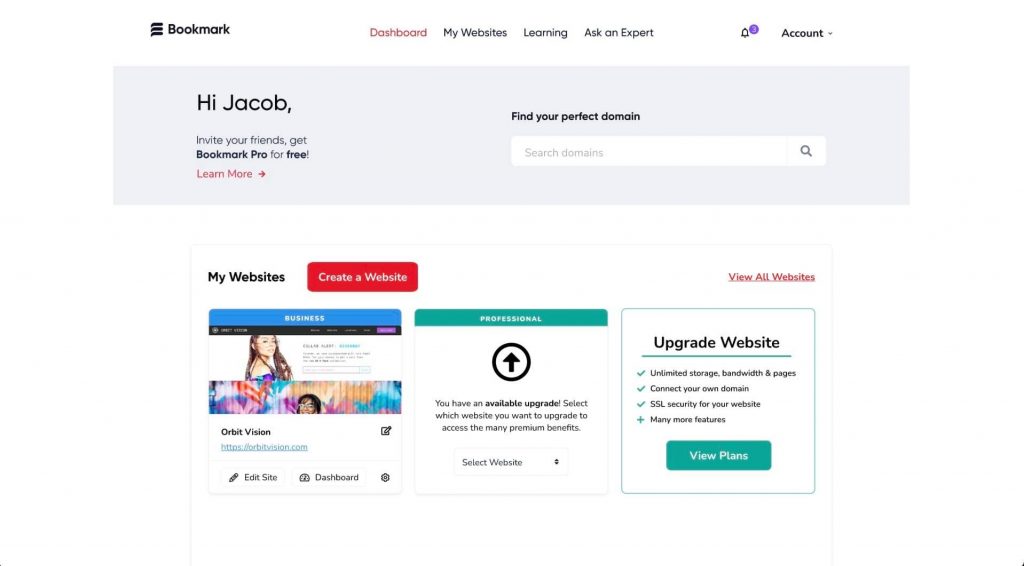 Pros:
AI design assistant
Customer support
Design customization options
Drag and drop interface
User-friendly interface
E-commerce
Free hosting and domain name registration
Free plan
Integrated statistics
Live chat
Mobile responsive
Online training courses
Social media integrations
Supports SEO
Cons:
A limited number of templates
Some templates may be too basic for those with programming experience
Third-party plugins can be expensive
Pricing:
Bookmark offers a free trial and a free version. The two paid plans range from $11.99-£24.99/month. Visit their website for more info.

Wix
Wix is one of the most popular free hosted, cloud-based website builders. It is a beginner-friendly and cost-effective website design tool best for bloggers and small businesses. By using Wix, you'll get access to hundreds of templates you can easily edit. It offers two products: Wix Editor, an intuitive drag-and-drop site builder that allows you customization freedom, and Wix ADI, an AI-based system that creates a website in minutes, best for those that seek a quick solution.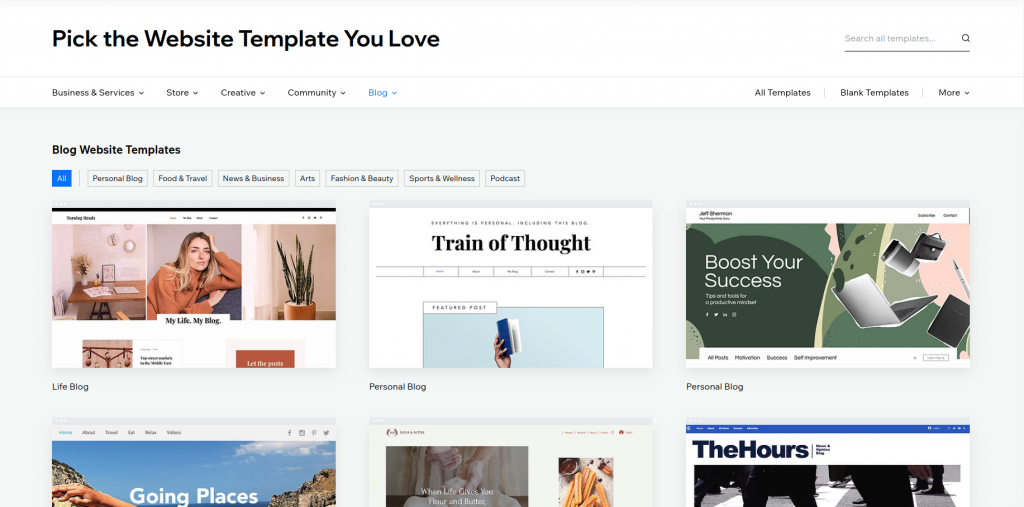 Pros:
A variety of widgets and apps
Drag-and-drop editor
User-friendly interface
Image editor
More than 500 templates easy to customize available
No coding or technical knowledge needed
SEO tools
Variety of plan options
Wix artificial design intelligence
Cons:
Can't switch templates after a site is published
E-commerce marketing features are limited
It is not easy to move your site away from Wix
Not Ideal for large websites
Slow loading speed
The starter plan doesn't remove ads from your site.
Pricing:
Wix has eight pricing plans ranging from $14 to $500+ per month, billed annually. It also offers a limited free plan with Wix ads. For more info, check here.

Shopify
Shopify is a fully hosted website builder designed exclusively for e-commerce websites and online stores. It is a quick and easy solution for anyone who wants to start an e-commerce business. The good thing is that you don't need coding or design skills to build and run your online store. With its clean and intuitive drag-and-drop interface, you can organize your products. Choose from a variety of well-designed themes and templates, and customize the way your website looks. Shopify also tracks and responds to orders and accept payments, online and credit cards.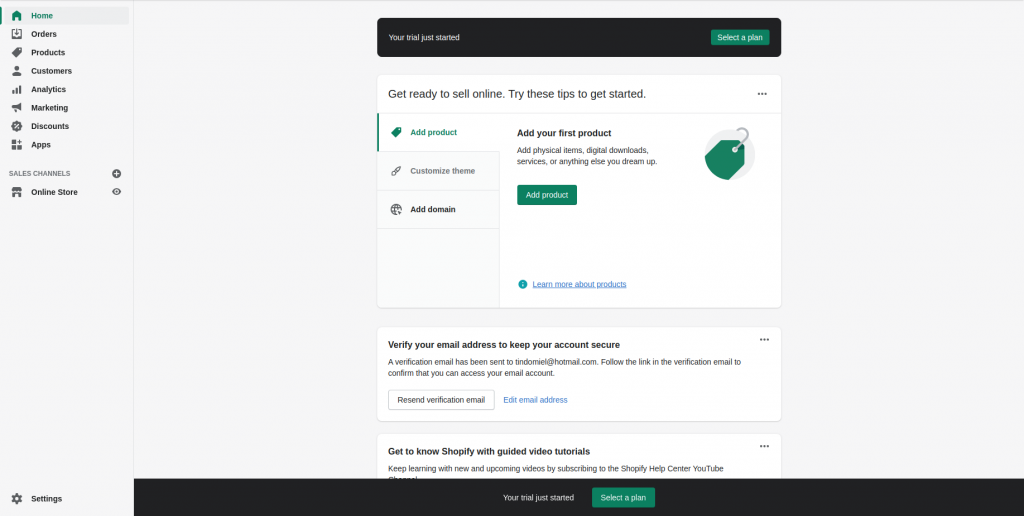 Pros:
14-day free trial
24-hour support
A built-in email marketing tool
A great number of quality designs
Abandoned cart recovery
Automated shipping calculation
Easy to modify designs
Modern and mobile-friendly templates
No coding experience needed
Scaling
Sell across multiple channels
SEO features
Unlimited product listings
User-friendly
Cons:
Additional fees
Difficult to move your website away from Shopify
Expensive services
No free plan beyond 14 days
Shopify Payments only available in certain countries
URL structure is not ideal for SEO
Pricing:
Shopify offers three general plans, and they range from $29 – $299/month. Additionally, the Shopify Lite plan starts at $9/month and Shopify Plus is available at $2,000 per month. The best thing about their payment plan is that there are no additional transaction fees if you use Shopify Payments. Find out more here.
WordPress
WordPress is probably the most popular CMS (content management system) platform in the world. There are two different versions of WordPress:
WordPress.com – hosting service
WordPress.org – self-hosting, open-source software that demands web development knowledge
Here we are going to review WordPress.com.
With this all-in-one website building solution, you can quickly build a website even if you don't have much technical knowledge. It's the best option for personal blogs or small business sites. It is flexible and scalable, and there is a wide array of themes you can choose from and personalize your site. WordPress is relatively easy to use, but it is not very beginner-friendly compared to other website creators. Like, if you want to develop your site further, you will need to have basic coding skills.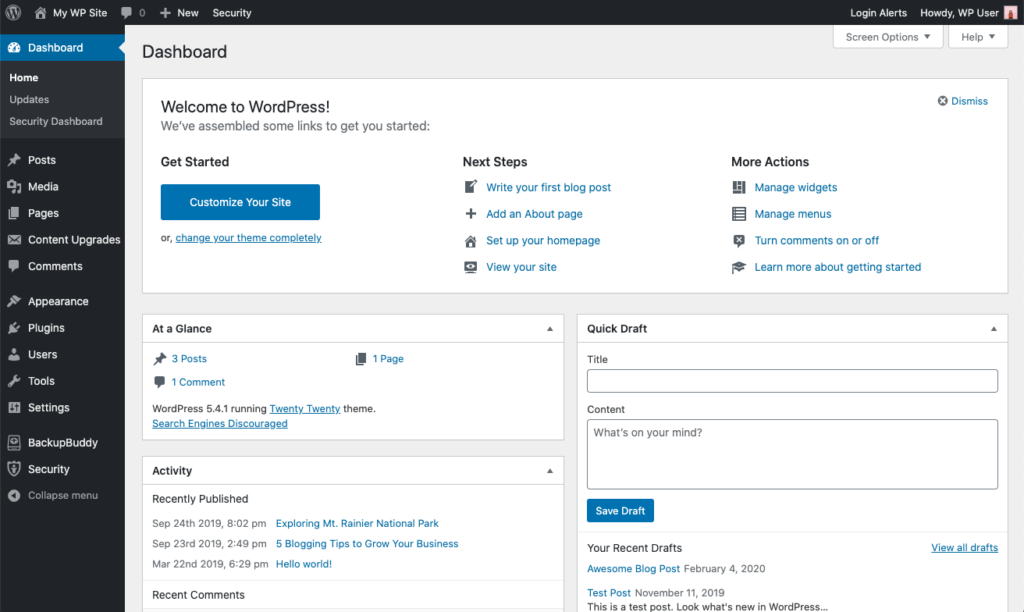 Pros:
Accessible to beginners
Customizable designs
E-commerce feature
Email and live chat support
Free plan
Google Analytics support
No hosting needed
Scalability
Cons:
Not the easiest or the cheapest website builder to use
Premium and lower plans do not have e-commerce features
Slight learning curve
You must upgrade to a business plan to install custom plugins or themes
Pricing:
WordPress.com offers five different pricing plans, ranging from free to $45/month. Go here for more details.
Joomla
Joomla is an open-source Content Management System (CMS) that can be used to build powerful websites and applications. With Joomla, you can set up a website and you can publish all kinds of content like text, photos, videos, documents, and much more. Its many functions allow you to customize the appearance and features. Joomla, however, is not for those that need a quick and easy solution. Although it's not very difficult to learn, it does have a learning curve that is more complex than other website creators. It's best for people who have some web development experience. This platform offers many functions, extensions, and plugins.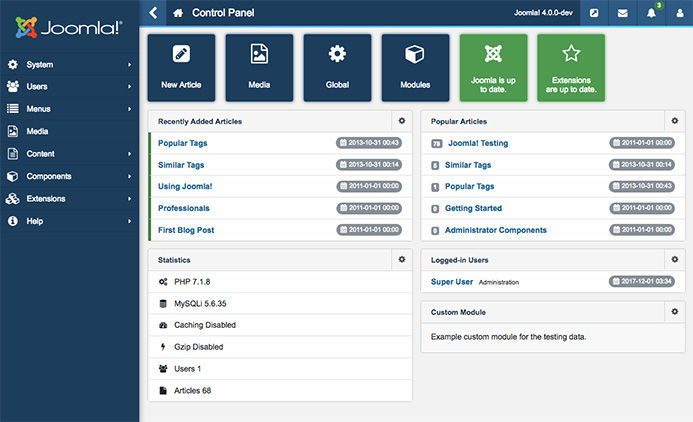 Pros:
Supports e-commerce
Easy to edit
A large number of Plugins and Extensions available
SEO Friendly
Mobile friendly
Multilingual
Free
Cons:
Not user friendly
Steep learning curve
Pricing:
It is open-source so you can own and modify your site without worrying about licensing or fees.
Squarespace
Squarespace is another website builder that is good for online stores, blogs, and smaller websites. Due to its modern and aesthetic templates, Squarespace is great for artists, photographers, and designers who want to showcase their work online and capture audience attention.
Although Squarespace allows you to customize almost everything on the website with little technical knowledge, some users find it more difficult to use than other web builders.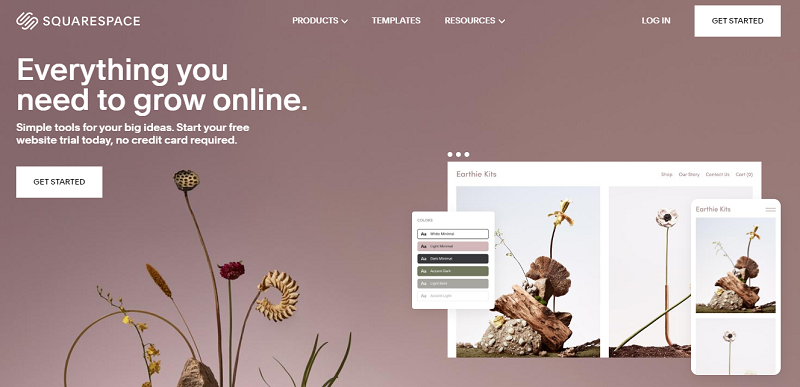 Pros:
Email campaign tools
Fully managed cloud hosting
Mobile friendly
Modern and aesthetic templates
Online store
SEO and analytics
Social media integration
User-friendly interface
Cons:
Less easy to use than other builders
Low page speed
More expensive than some other services
Pricing:
Squarespace doesn't have a free plan, but you can test it out with a free 14-day trial before committing to the paid plan. Squarespace's four pricing plans range from $12 to $40 per month.
Our Recommendation: Bookmark
As you can see, every website builder has its strengths and weaknesses, and different companies cater to different needs and budgets. Nevertheless, if you are a small business owner and entrepreneur who is looking for a quick and simple solution to establish a strong online presence, we recommend Bookmark.
Bookmark is one of the most innovative website builders on the market. What makes Bookmark stand out among competitors is its powerful Artificial Intelligence Design Assistant (AIDA), and the devoted team of developers behind it. These professionals want to set new standards in web design and are focused on continuous growth and improvement.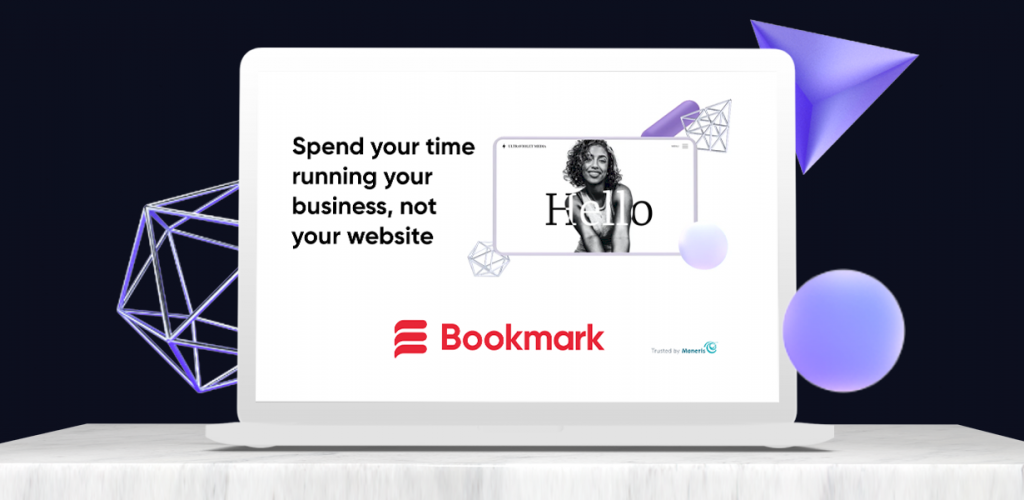 After asking you simple questions about your needs and goals AI algorithms will create a unique website in just a couple of minutes. And if you don't like the finished product, the smart AI assistant will try again. Then, you can customize your site according to your needs and preferences.
Time efficiency and cost efficiency are the main advantages of Bookmark's AIDA.
Another benefit of using Bookmark is that it provides website hosting and domain name registration. That means you don't have to worry about managing software, keeping backups, or installing updates. Bookmark will do that for you.
So, if you run a small business, have no coding and designing experience, and have a limited time and budget, check out Bookmark. It is an affordable and reliable option.
Final Thoughts
There is no excuse for not having a website in this day and age where everything is online. A website is the face of your business, and it can have an enormous impact on your success. The better the website is, the more advantages you can gain. A well-designed website is vital for making a lasting impression on your target audience.
We tried to give you a closer look at the most popular website builders and their advantages and disadvantages. Make sure you reach a decision based on your own unique needs. Also, always use the free trial or free plan options before you make a commitment.
What to do in case you need a more powerful website?
Website builders, like the ones reviewed in this article, are great for small businesses and individuals. Still, if you are looking for a powerful hosting solution for a huge site, they may not be best for you. Building a successful website requires industry knowledge and experienced web developers. A dedicated development team should definitely manage complicated projects that require design and code. Although this option is more expensive, it is worth the investment. These professionals will offer you excellent design solutions, expert guidance, and a high-quality website that generates traffic and income.
No matter which website builder you will choose, remember, the price you'll pay for a website is much lower than the price of not having one and getting left behind.
Hiring a professional team of developers can take time. If you don't have any web development experience, it can be hard to make the right choice. And this is where we can help. Cosmic Development has years of experience in providing some of the best solutions to our clients. Our website experts can turn your vision into reality.
If you still can't decide what is the best solution for your business and prefer professional advice, schedule a free consultation with us and we will help you with the process of building your online presence.
Sources: