by Katerina Bogdanoska
---
You've probably heard about the newest trend among remote employees and companies – workation. For those unfamiliar with the term, workation (work + vacation) describes the practice of combining working remotely and vacation. This is not a completely new notion. However, it became increasingly popular during the COVID-19 pandemic when remote work became 'a new normal'. The pandemic changed how we work for the better, and now it's changing how we vacation. Now, with the advancement in remote work tools and technologies, it is easier for employees to work on projects from remote locations while enjoying a break from the regular daily routine.
The possibility of working and vacationing at the same time may sound unbelievable, but we can assure you it's reality. We are one of the few companies that adopted this hybrid work model that allowed working remotely even before the pandemic. Our people are free to create a work schedule that suits them best. They are able work from wherever they want, as long as that doesn't interfere with their tasks and duties. The well-being of our people is vital to our company culture. For that reason, along with the flexible work schedules and relaxed working atmosphere, we introduced remote work options long before it became a trend.
In this article, we'll share with you how our Cosmic citizens enjoyed their summer while working from various locations and why embracing a remote work policy and flexible working hours is the way to go.
The Benefits of Summer Workations
Why work from one place when you can take your work anywhere? Why not?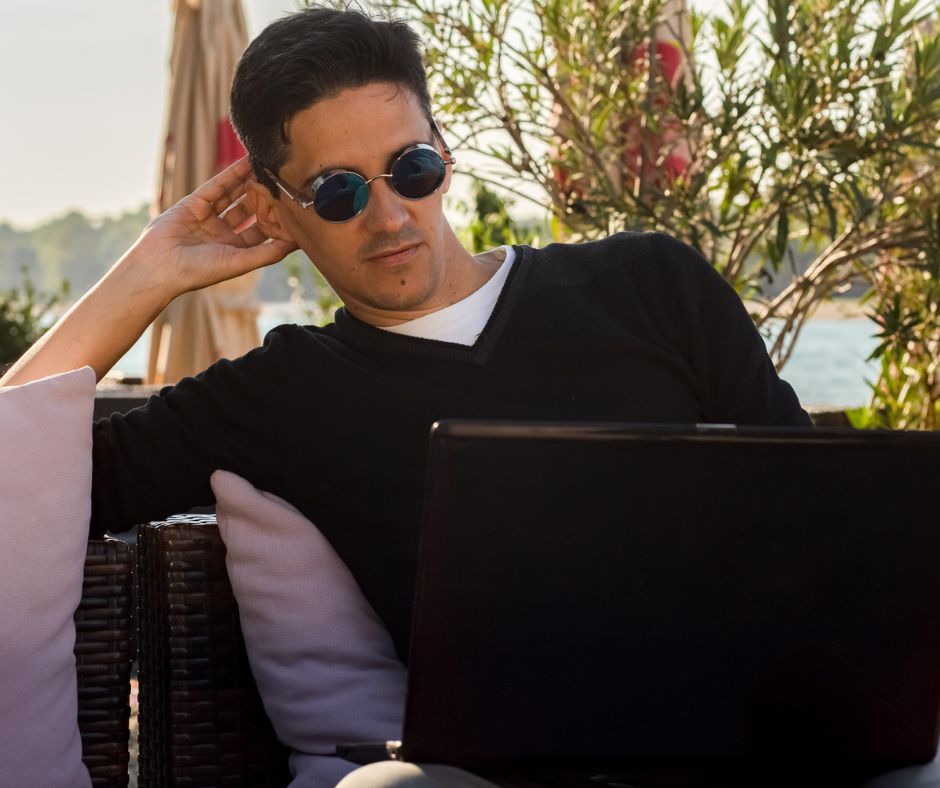 Workations come with huge benefits that are difficult to ignore. When you are not tied to your working desks all day and don't waste time commuting, you have more freedom and flexibility to explore other options while performing your professional responsibilities and earning money. And, if you are working from home most of the time, you know that it can become quite tedious and leave you feeling stuck after a while.
Workations are an excellent opportunity to enjoy a much-needed change in scenery while you work. And you can use your spare time to relax and explore new places,. This is a great motivator and it promotes well-being. It can also enhance your productivity and creativity, give you a different perspective and encourage new ideas.
Waking up by the sea or in the mountains, drinking your coffee with a panoramic view of nature, and working online with your work desk pointing towards your favorite mountains or beaches, is definitely far better than spending eight hours in the office staring at a blank wall or working in a busy, stressful environment. However, workations shouldn't be regarded as a substitute for actual holidays because you still need time to shut off from work completely.
How Cosmic Citizens Enjoyed Remote Work Perks This Summer
The Cosmic team took full advantage of their freedom and flexibility this summer and combined work and lovely summer sceneries. Besides working from the comfort of their gardens and balconies, our employees enjoyed the benefit of working from their hometowns and different distant getaway locations in nature while still getting the work done.
Here's how some of our employees spend the summer and the beautiful sights they visit.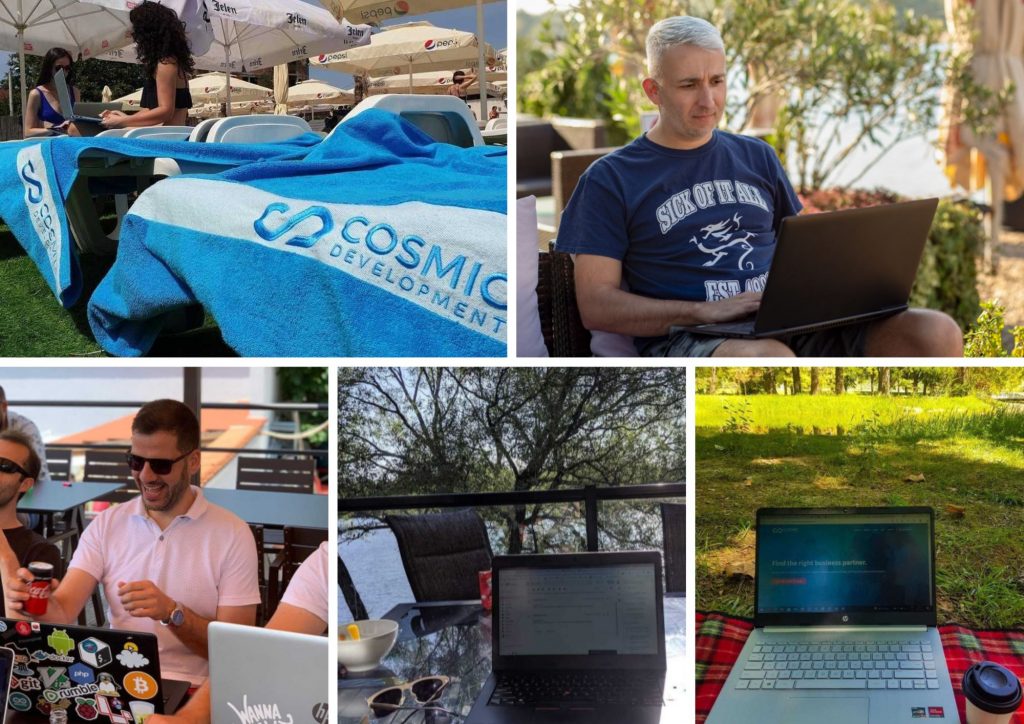 Are Summer Workations Good for Companies?
Yes! It's not only the employees that reap the benefits from the workations; it's the company too. Business success, job performance, and employee well-being are closely connected.
When companies invest in their people's mental and physical well-being and trust them to work from anywhere, they have happier employees. And happy employees work harder and better than those who aren't.
The benefits of flexible work schedules and workations include better productivity and creativity. It also boosts employee satisfaction, motivation, and morale. Moreover, it is a great way to build employee loyalty and retention because the new generation of workers puts great value on flexibility.
However, companies should establish a clear remote work policy and outline expectations that everyone in the company can rely on. With a solid work-from-home policy, teams are more likely to achieve their goals, keep productivity, and be satisfied with their work. This includes performance expectations, availability expectations, working hours, expected response time for each communication channel, client confidentiality, cybersecurity, and equipment requirements.
In our company, summer benefits are a way to reward hard work and give people a break they need. But, remote work and summer workations come with a responsibility to deliver high-quality work to benefit our clients. Our employees have the flexibility to work from home. However, we still sometimes require that they are available during certain core hours that overlap with their team members. That way, we ensure that everyone is available for team meetings or clients in certain time zones.
Join Cosmic Development and enjoy the freedom of choosing your workspace.
Freedom and flexibility are perks at the core of our company culture, and we are really proud of having them.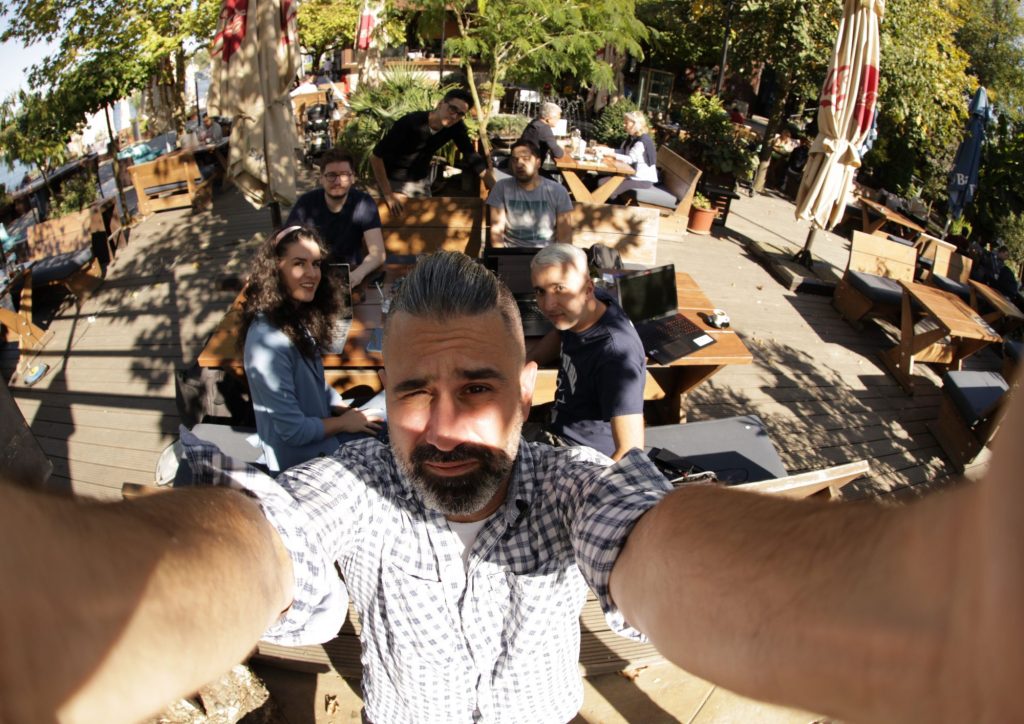 We at Cosmic believe that personal well-being is essential for top job performance. Which is why we have the option to let our employees choose their work locations. However, we are still keeping our offices open for those that want to work from an office setting.
Your work setting is irrelevant as long as you are an engaged and productive team member. You'll have the freedom and tools to get the job done regardless of your position or location.
Cosmic Development may be the answer if you are looking for a place where you can take advantage of countless benefits like combining work and travel. You can check our current job offers here.