By Katerina Bogdanoska
---
If you are looking for some work-from-home productivity tips, you are at the right place. At Cosmic Development, we have practiced remote work in various formats for years and our employees are sharing their experiences and tips on staying productive.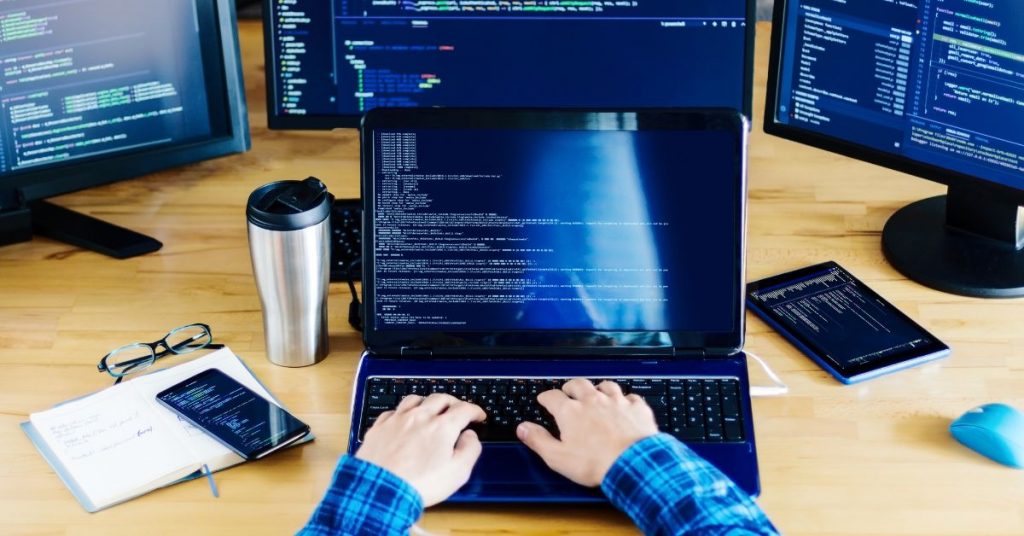 In the past two and a half years, the way we work and live has dramatically transformed. The pandemic has normalized remote and flexible work. Cloud technology and advanced communication and collaboration tools have allowed companies to embrace remote work and reap the benefits it can bring. Instead of being a temporary pandemic measure, work from home has become a lasting feature of the modern workplace.
Despite the apparent benefits of remote work, like freedom and flexibility, no commute, a higher quality of life, and better work-life balance, working remotely is more complex than it seems and can bring many unexpected challenges. This perk can turn into a missed opportunity if not handled carefully, and you can become your own worst enemy,
Productivity is one of the biggest challenges, especially if you are new to remote work. Having that in mind, we've compiled a list of some essential remote working productivity tips from our employees. We also asked a few to share their personal experience in working remotely and explain how they navigate the pitfalls and ensure they stay focused, productive, and happy.

Set up a home office space that limits distraction
Whether a corner in your living room or a separate room turned into an office, it is crucial to designate an official home workspace where you can comfortably work without noise and distractions.
Create a healthy, stimulating environment that best suits your personal ergonomic and productivity needs. Keep it clutter-free and organized. Add houseplants to boost your mood, and if possible, put your desk by the window to have access to natural light because it will improve your mental alertness and focus. Invest in equipment that will enhance your performance – adjustable desks, ergonomic desk chairs, spacious monitors or laptop stands, and noise-cancelling headphones. A dedicated workspace will give a sense of legitimacy to your work environment and help you maintain boundaries between home and work life.

Define boundaries
Besides having a separate workspace where you can concentrate and minimize disruptions, it is equally important to put clear boundaries between work time and family. It can be hard to separate your work from your personal life, especially if you have children.
However, everything is possible with a little more pre-planning and communication.
Work out a schedule with your household members and inform them of your working schedule and that you are unavailable during this time. Ensure that your home office is off-limits when working and that your work does not intrude into other people's lives. Learn to say no, because you can easily become stressed and overwhelmed by others' demands, which will definitely affect your productivity.
The opposite is also true, setting healthy work boundaries to avoid overworking. Stick to your work schedule, do your work as best as possible, and once your work day is over, switch off, put away your work tools and enjoy your free time.
And remember – setting your boundaries is in your own hands. If you don't respect them, no one else will either. It is a battle you'll need to fight for yourself, but with time you'll become a master of juggling work and family.

Set up a work schedule and maintain a daily routine
The best thing when working from home is the flexibility to establish a routine that's ideal for you. Creating and following a work schedule will save your sanity and boost your productivity.
Here are some steps you can follow:
Maintain consistent working hours. Decide the time when you will start and finish working each day and commit to it. Plan for virtual meetings with others in your schedule, childcare, or any other responsibilities you may have throughout the day. Be aware that you'll need to be flexible from time to time and that there will be exceptions to your rules. Sometimes you'll have to give extra time to your work and sometimes to your personal life.
Discover your most productive time of the day. Some people peak in the morning, others in the afternoon or night. By aligning your schedule with your peak energy times, you make it easier to focus on work when you feel the most energized and motivated, thus being more productive, focused, and quicker.
Track your time. Time tracking can help you be more aware of how you spend your time during the day and how much time you spend on each assigned task. This practice will give you valuable insights into your productivity and help you find ways to improve and optimize your workflow. If you're unsure how to do that, Forest, RescueTime, and Toggl are just some of the many time-tracking apps you can use. They will tell you how you spend your time, analyze your work trends and help you make smart decisions.
Set priorities
Taking a proactive approach will give you a sense of accomplishment and put you in control of your day.
One of the biggest productivity mistakes you can make is focusing on getting as many tasks as possible instead of doing the most important ones. So start by identifying your main to-do's for the day, and qualify them by their urgency. Try the Rule of Three – a simple but effective productivity hack that requires you to focus on accomplishing only three essential goals every day. You can apply this rule not only for your day but also for your week, month, and year. Our brains are not evolved to perform multiple tasks simultaneously, so by engaging in fewer tasks, you increase your focus and are more efficient. Similar productivity methods you can also try are the Pomodoro Technique or the Zen to Done Rule.

Take regular breaks and practice self-care
Working remotely and sitting all day can harm your body and mind. Don't hesitate to take a break and recharge. Regular micro-break breaks throughout your working day will lower the risk of burnout, reduce stress levels, and increase overall productivity. They are good for both your physical and mental well-being. A play with your kids or pet, a short conversation, listening to music, stretching, breathing, whatever you like, as long as it is a break from screen time and gets you moving.
Incorporate self-care into your daily routine, whether that is walking in the park, regular exercise, spending time in nature, contacting loved ones, watching a good movie, reading a book, cooking a fun meal, or spending virtual social time with colleagues. These activities will lower your stress, help you relax, and clear your mind.

Stay engaged in company life
Working from home can get boring and lonely. If you feel isolated, you will not be happy or productive. Fortunately, with the technologies today, you can easily stay engaged with the team and be involved in daily company life. Stay in touch with your colleagues via Slack or similar cloud-based collaboration tools. Try video chats, participate in different events and activities and stay connected.
The Bottom Line
Working from home has many great advantages, but when it comes to productivity, it certainly has its drawbacks. It's challenging to maintain an excellent work-life balance and stay productive. But with proper planning and the right tools and techniques, you can create space and time to be effective without letting work interfere with your personal life.
Staying productive while working from home is different for everyone. What works for you might not work for somebody else. Find what works best for you, stay productive, and keep your head up no matter what.
Come work with us and join our team of great people!
We offer a hybrid work culture flexibility that combines the benefits of both remote and office work. Check out our current openings and learn why Cosmic Development is the right fit.