By Katerina Bogdanoska
---
Pursuing an IT career is quite common nowadays, but carving out a successful IT career journey at the same company for a decade is something you don't see every day. The Managing Director of our company, Antony Naumoff, has built his career at the same IT company and is a rare example of loyalty and dedication. He has been there from the very beginning, throughout the years, up until today, when the company is growing rapidly and has recently celebrated a ten-year jubilee.
Read and find out how it all started and the challenges and achievements along the way of the success story that Cosmic Development is today.
The original article in Macedonian is available here.
Anthony Naumoff is the Managing Director of Cosmic Development. He was born and raised in Chicago, USA, attended Kansas State University, and graduated from University American College Skopje.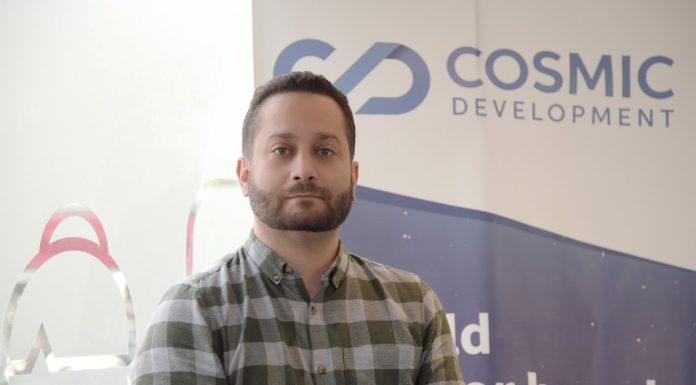 His life story is extraordinary. He is one of the rare people who returned to his parents' homeland and graduated college and started working for a local company. That company started from a small office in Skopje eleven years ago and has spread across four locations with nearly 150 employees today. One of its most loyal clients is a unicorn startup that has recently become a publicly traded company, trading on NASDAQ, and is valued at more than $2 billion. A few people from the Cosmic Development team had the honor of attending the NASDAQ bell-ringing ceremony in New York City, an experience that they will probably never forget.
Cosmic Development is a Canadian IT solutions and staff augmentation services provider with over a decade-long tenure. They provide custom-made, dedicated talent solutions to companies of all sizes. Thanks to their unique approach, they select highly-experienced developers and other professionals from different business areas and create flexible and customizable dedicated teams for clients and business partners worldwide. Their outstanding services are supported by a wide net of teams spread across different locations. They have offices in Toronto, Skopje, Bitola, and Belgrade. A company set in this way is a new deal for the IT industry.
You are in charge of one of the leading IT consulting and development companies that have put Macedonia on the global map. Tell us how it started eleven years ago and where the company is today.
Sure! We started eleven years ago as a company with only one employee, working on a trial period with only one potential client. Luckily, one of Cosmic Development's founders, a very famous and successful businessman from Canada, is of Macedonian origin and his heart and thoughts are always with Macedonia. His respect for the country where his ancestors were born went beyond words, and he tried to help Macedonia in the best possible way. The idea for this success story and opening of this company was born when he visited Macedonia.
After the initial trial period had proven to be more successful than we expected, we started growing slowly but steadily, and we started promoting our business to clients outside of the country and within the country in front of potential employees.
We first opened and started growing the Skopje office. Things went well, resulting in the opening of offices in Belgrade and Bitola. The Belgrade office gave us direct access to a large talent pool from the IT field, which was a clever step in cases when we couldn't find employees with specific skills in Macedonia. At the same time, the office in Bitola helped us grow as a company in providing BPO (business process outsourcing) services.
Today, with more than 150 employees, it is truly amazing to see the progress we've made. Soon we are opening a modern and state-of-the-art office in Bitola. I am really happy about that, and I can freely say that the company is experiencing stable growth and intensive development as never before. But our growth is effective and allows us to create and maintain a positive working environment which is absolutely essential for us.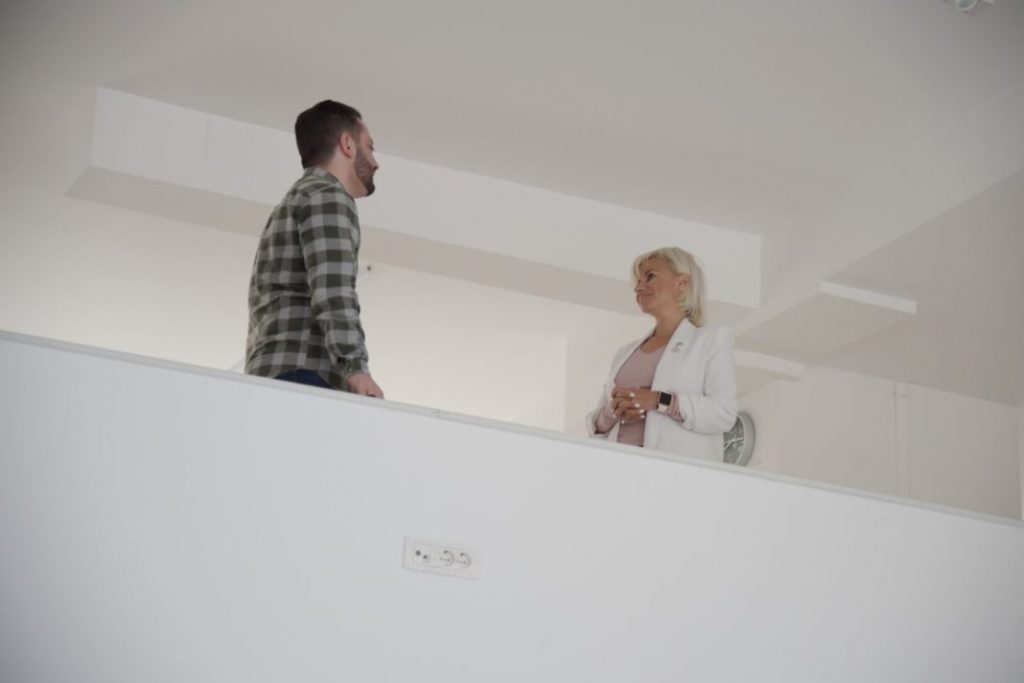 For years, Cosmic Development has been on the list of the most wanted companies to work for, according to employees. How do you stay ahead of the competition in a country with many IT companies, especially considering the Balkans' shortage of high-quality workers suitable for the global market?
There are several factors at play. Above all, we practice a relaxed and positive working environment. We strive to introduce play-and-relax zones, flexible working hours, location flexibility, and good employee benefits packages that are regularly enhanced. Additionally, our employees are free from administrative micromanagement, which is key to preventing fatigue and killing their creativity.
We also strive for openness and transparency toward our employees. Our honest relationship is incredibly important, and we recently put a lot of attention and focus on it. Our employees are always informed about our goals, achievements, and plans. We are always realistic – we never promise what we can't deliver, and most importantly, we are always fair and honest with the whole team, without exceptions.
We are not perfect, and no business is, but the thing that helped us achieve success is that we are always learning from our mistakes and trying to improve for our employees and clients.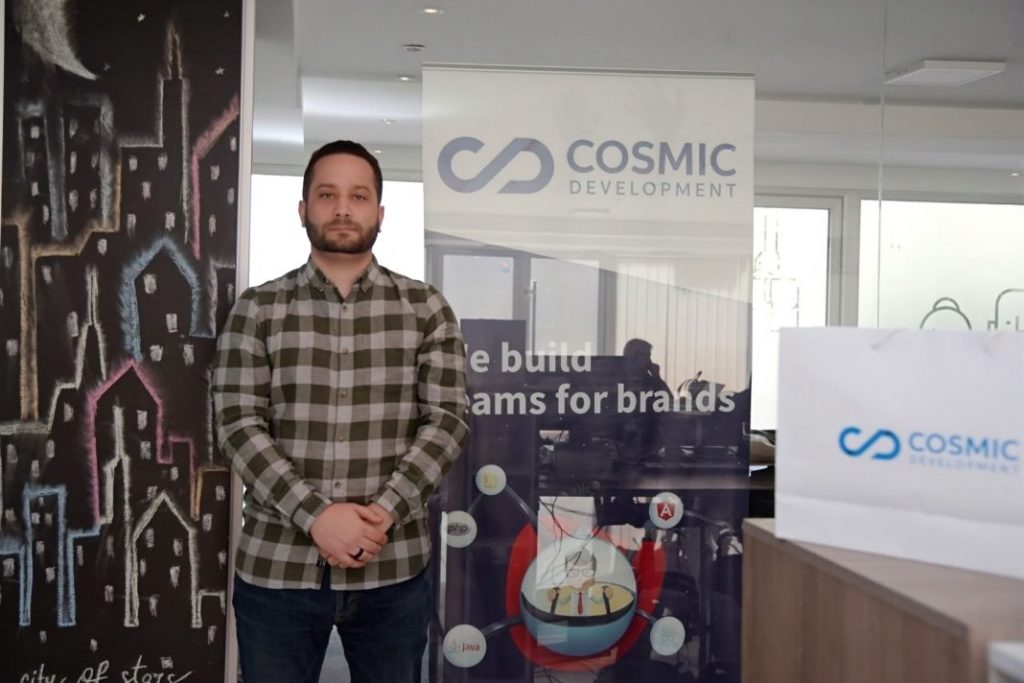 Cosmic Development is oriented towards outsourcing a wide range of IT services. In your client's testimonials, mainly from the USA and Canada, one can read their impressions about your company. They say that the relationship you establish with your clients is of relational rather than transactional character, and your services are produced through interaction between the clients and the teams.
Yes, that's right. Our motto is: We build teams for brands! But that doesn't mean we only hire people who will work for a particular client and will be told what to do. Our way of working is characterized by a high level of trust between the company and the clients and cooperation and mutual respect between the clients and employees. Our clients want employees that will cooperate and give ideas and improvement suggestions that can have a significant impact. They want a team that can work jointly and effectively, not just anonymous workers from some corner of the world working on the given task.
This combined effort is very serious, but it helps establish an effective collaboration where both parties are satisfied with their work. And a job that is completed successfully is crucial for clients and their businesses.
Your growth and development allowed you to expand your services in the area of non-technical services (BPO). What types of services are most requested?
Besides IT, we also offer non-technical services or BPO. We are currently oriented towards this type of service because it provides greater flexibility than IT services. The IT part is always slower but with steadier growth because the market is very saturated and competitive. On the other hand, the BPO part allows us to grow and hire more people faster. Additionally, the current client base needs workers from this sector, which explains our continuous growth.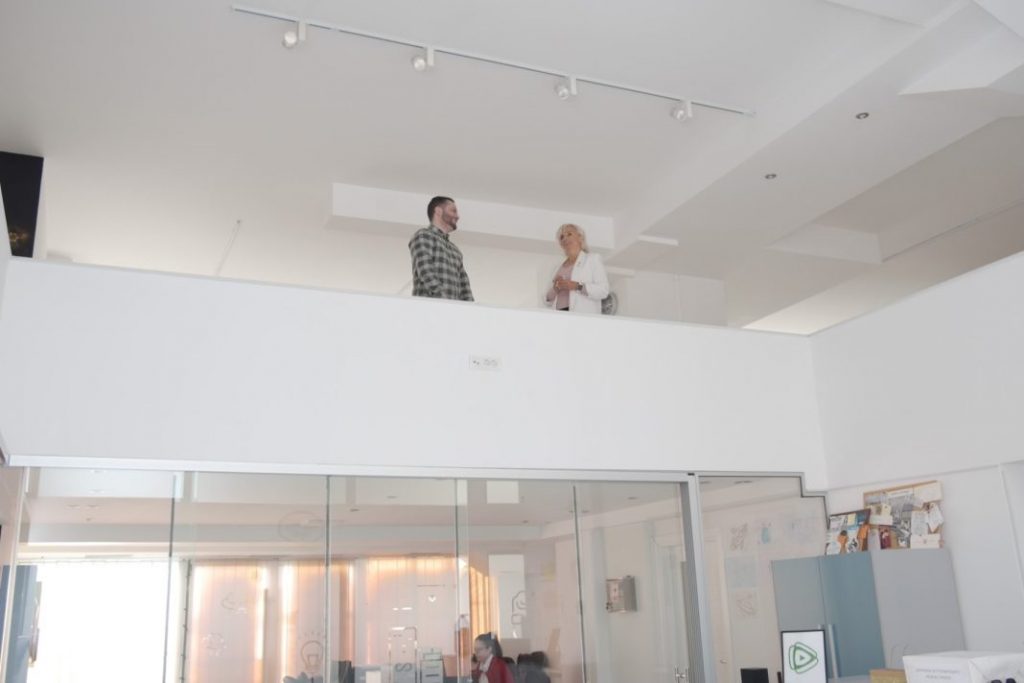 What is your company's potential, and what can Macedonia do to support the IT industry? How do other countries succeed in maintaining and developing this vital branch?
Macedonia has an exceptional and competitive IT industry. Getting a developer job, whether junior or senior, is much easier than before. This results from the growing number of tech businesses and their rising demand for tech talent, and we expect it to grow in the coming years.
The pandemic has normalized remote work; now, many developers prefer remote work or freelancing. Our company has successfully adapted to the new reality, and we let our IT professionals choose their way of working.
Regarding the non-technical services we offer, I think Macedonia has unlimited potential in that area because the country has a young, talented, and educated workforce willing to work. That's why our institutions must recognize the best companies and try to keep them. It is also essential to ensure that companies that take advantage of favorable business conditions and pay their workers low salaries, like those in India, are not supported. The BPO services are an excellent possibility for the country's economic growth and can improve further if the workers are treated equally everywhere.
And in terms of how other countries maintain and develop their IT sector, I wouldn't comment because it's not my area of expertise. However, investing in young people and their education and creating a favorable business climate for IT companies is never a mistake.
Your job is keeping you in Macedonia. So what are your impressions, what do you like, and have you adopted any local habits? What are the advantages and disadvantages of living in this part of the world?
Over the years, things changed, and now it is not only the job that keeps me here. I got married and have a child, so my family life is in Macedonia. And although I was born in the USA, I love Macedonia and life here. Like any place in the world, there are good and bad sides. It is not perfect, but nowhere is. I love the way of life here. Macedonia has relaxed and friendly people, and they can be excellent hosts. If I could, I would spend my days in a kafana, talking with people.
Another thing I like is its natural beauty. Macedonia has many incredible mountains, lakes, historical cities, and undoubtedly the most beautiful women, as you can see by my wife! As I've already mentioned, the downsides are only natural, but I never focus on them; I only see the good things.
Under the right conditions, Macedonia has a vast potential to be a great place to live because it has a small territory and can quickly thrive, much easier than other countries.
What are Cosmic Development's plans for the future, and what management strategies push companies forward? Please give us a little glimpse into the future.
Cosmic Development's next plan is to continue growing and create a positive and stimulating work environment where our teams can develop professionally. The future is unpredictable, but we are sure that we will continue to aspire to improve, collaborate, and treat our employees in the best possible way. We will continue building a strong company culture that will drive business success.
The opening of the new office in Bitola is something that we are looking forward to and is a motivating factor for all of us. I believe that we are setting an example that will stimulate positive change in the life of this beautiful city which is a mecca for IT companies.
With this expansion, which is an investment in excellent working conditions, we will provide our employees with an exciting career journey, just like we always do, because we remain a company that is entirely committed to its people.