by Biljana Ognenova
---
Online writing tools complement your writing acumen, enhance creative flow, help you get better SEO rankings, and create an anxiety-free working day. As long as you know how to expand your talent with effective writing resources, you can concentrate on what matters most — crafting messages for your target audience and connecting with visitors that search for your brand services. Shortly, you build more time to do proper research and develop your voice.
The best writing tools will not only aid with grammar, punctuation, tone, and style, but also enhance your organizational, communication, and time management skills.
Free Writing Tools To Use Daily for No-Sweat Content Marketing
Imagine being scrutinized by the world's toughest content editor — you need all the help you can get to polish your writing and submit flawless drafts. Even if you are not a professional content writer or copywriting expert, most of today's work runs online. Therefore, everyone could use extra help when staring at a blank screen and struggling with writing and editing.
The IT industry, in particular, relies on innovative technologies. It would be a shame to miss out on so many writing resources that you can download or subscribe to for free. Here is a list of ten writing tools that are easy to use and let you reap the benefits of free writing software:
1. EMV Headline Analyzer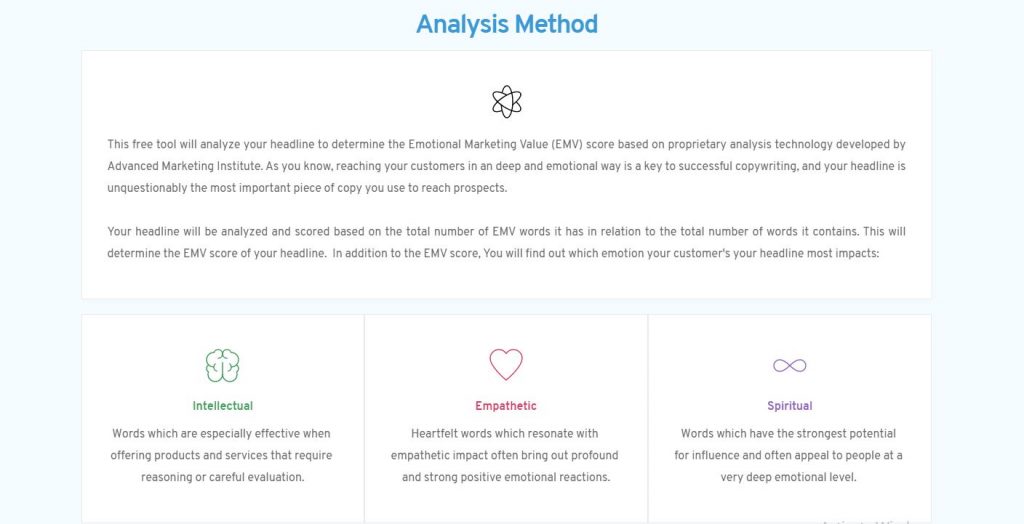 Visitors have become smarter — they are spoiled for choice. You have seconds to attract people to read and share your blog. The easiest way to do it is to create appealing headings. Catchy, attention-grabbing titles and headlines are what draws in the largest number of visitors.
Instead of wasting your time on buffing the titles by yourself, you can enhance the heading's copywriting value by using the EMV Headline Analyzer. EMV stands for "Emotional Marketing Value". The EMV writing tool was created by the Advanced Marketing Institute (AMI) to analyze the emotional impact of a heading. The emotional impact contains intellectual, empathetic, and spiritual relevance analysis, all to help you create deep bonding with the potential readers. Your heading must be between 4 and 20 words to be eligible for this analysis. Most professional copywriters create titles with an EMV score of at least 40.00 percent, while the best ones will aim for above 60.00 or 70.00 percent EMV scores.
2. Grammarly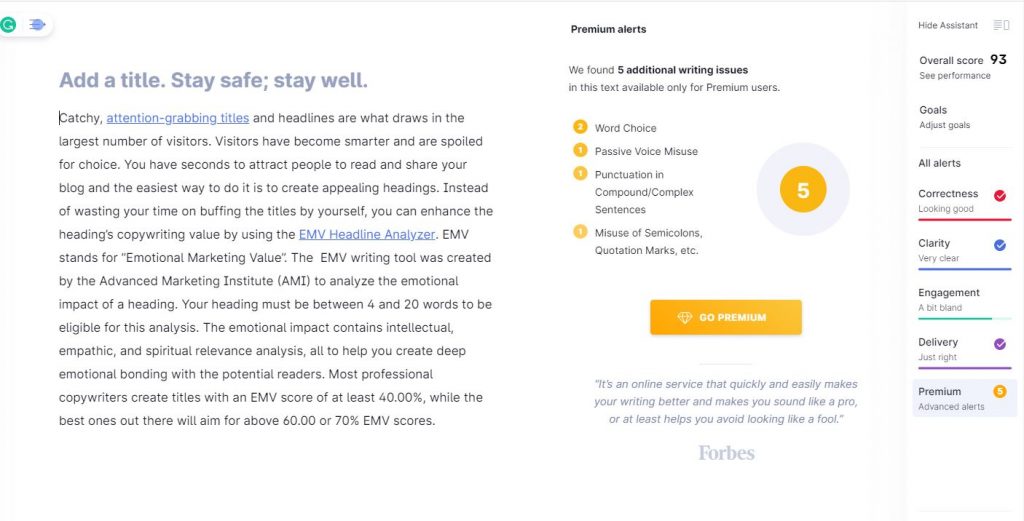 Grammarly is a popular writing resource for correcting grammatical errors and improving writing quality. As a subscription-based web editor, MS Office plugin, and as a browser extension, Grammarly lets you edit texts in American, British, Canadian, and Australian English. Therefore, it can help you meet client requirements worldwide. This is how it works:
Set up the language you need,
Copy and paste your text in the appropriate box, and
Get scores for correctness, clarity, engagement, and delivery.
The feedback for performance, word count, and readability comes back in real-time. You can edit as you go and improve scores immediately. Apart from a free writing tool, Grammarly extends its features in a premium version to provide smooth word choice and advanced style and punctuation corrections.
Great titles and precise grammar are only a part of what it takes for people to like, share, and comment on your content. Improve your writing skills further by reading our writing guidelines.
3. Google Ads Keyword Planner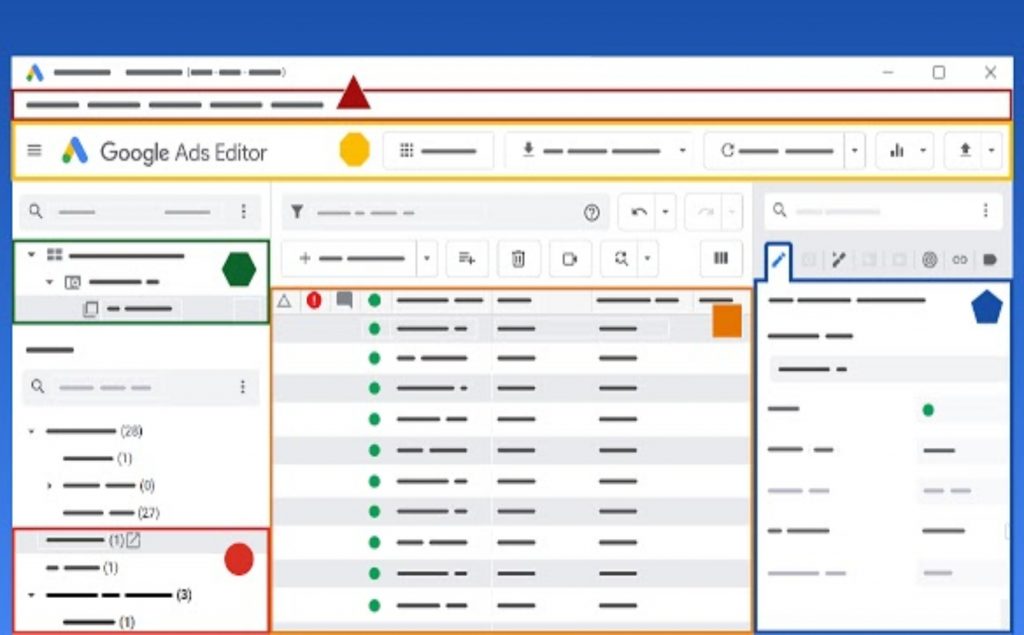 Although primarily targeting keywords for Google Ads campaigns, the Google Ads Keyword Planner is an invaluable writing resource for anyone testing the waters with SEO, keyword research, and keyword use. Google Ads is the tool-to-go for SEO experts.
All you need to start and delve into a resourceful learning library is a Google account. On the bright side, you can use Google Keyword Planner for free. But the skills to implement its best features and grow your business through SEO do not come without investment costs.
It takes years of experience to reach an expert level with SEO for Google. The best place you can start is by taking Google Analytics Academy lessons.
4. Paper Rater Plagiarism Checker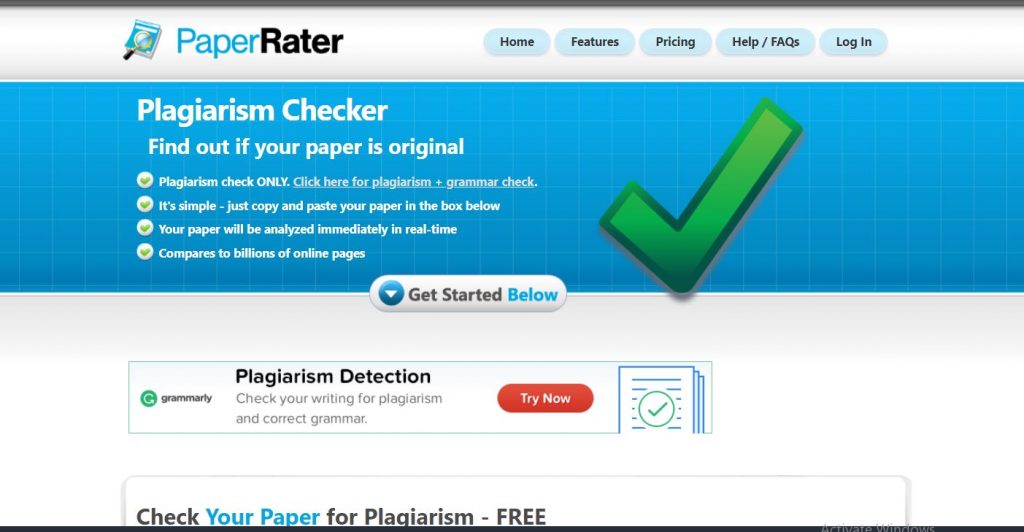 Original, informative content is a top priority of any content marketing strategist.
If you sacrifice originality, you can not only lose valuable audience but also get penalized by Google. College papers and essay writing are subject to plagiarism detection, too. Plagiarism is among the worst copywriting sins, which, in the worst-case scenario, incurs legal fees. However, as much as you can try to be original, certain topics are widely explored and elaborated online. To skip Google penalizations and unintentional content-copying, always use a plagiarism checker once you finalize your draft.
The one you can start with is Paper Rater. Paper Rater uses algorithms to analyze similarities between your text and already published content and provides a percentage score. As a bonus, this free writing tool for producing clean copy includes a Grammarly editor.
5. Readability Score Calculators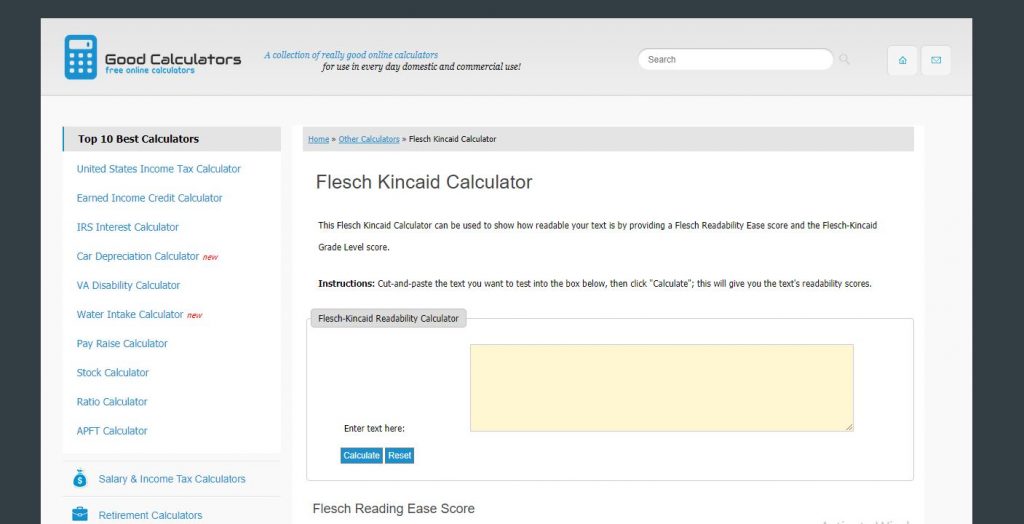 Fluffy, verbose writing is compelling if you are trying to hit the creative beat. However, it can repel an audience unused to reading long, complex sentences. Moreover, it produces more work for editors.
Flesch-Kincaid Score Calculator
Condense writing that meets the reader's expectations is the most-sought-for copywriting skill. If you are honest as a writer, there is always space to improve in this area. Use a Flesch-Kincaid calculator to judge the readability score of your writing. The Flesch-Kincaid score measures readability according to the educational level of your reader.
Be careful with the Flesch-Kincaid score when writing for an educated, expert audience. You will have to adjust your writing to match the technical experts' level, for example, or you will end up losing them because you'll bore them to death. For the widest outreach, however, choose simpler words and sentences.
Gunning-Fox Index
If you have time, improve readability further by adding another resource on your list of best writing tools. This is the Gunning Fox Index check, shortly called FOG. FOG tools inspect your brand's underlying message for its maximum potential outreach.
Do not be afraid to simplify your sentences despite sacrificing some of your creative juices. The majority of online readers spend minutes on reading content. Pack as much useful and practical tips in fewer, shorter sentences.
6. Hemingway Editor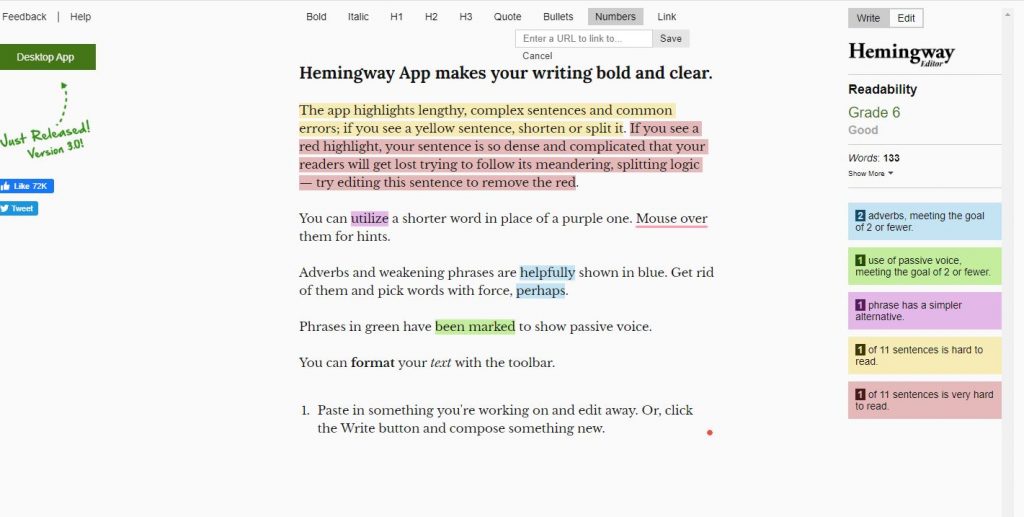 The Hemingway writing app can be frustrating when you use it for the first time. Later down the line, you will grasp the merciless massacre of sentences it performs without taking it personally. The app is available via the browser in a free version or as a paid desktop application. Apart from letting you format directly on the screen, you get immediate feedback via the app about:
Extensive use of passive voice
Phrasal complexity
Adverb density
Sentence complexity (hard or very hard readability)
Too many adverbs or knotty phraseology can ruin excellent writing. However, try not to be too hard on yourself if you cannot master this skill; even the author of the most cited writing resource for professional writers "On Writing", Stephen King, doesn't always adhere to his rules about adverbs. In time, as you improve your skills, this app will be among the writing tools you will use the least.
7. Website SEO Score Checker
Measuring SEO scores comes after you perform keyword research and analysis, and write, edit, and publish the content. Some errors can still slip through the cracks after all that effort. Moreover, Google makes changes to its algorithms, so you never know for sure how your website performs over time.
To find the most critical SEO mistakes of your website, copy and paste your website domain in a free SEO score checker. Despite its inapplicability for in-depth SEO analysis, you can occasionally use this tool to check the performance of your pages and to correct obvious mistakes.
8. Last Pass Password Manager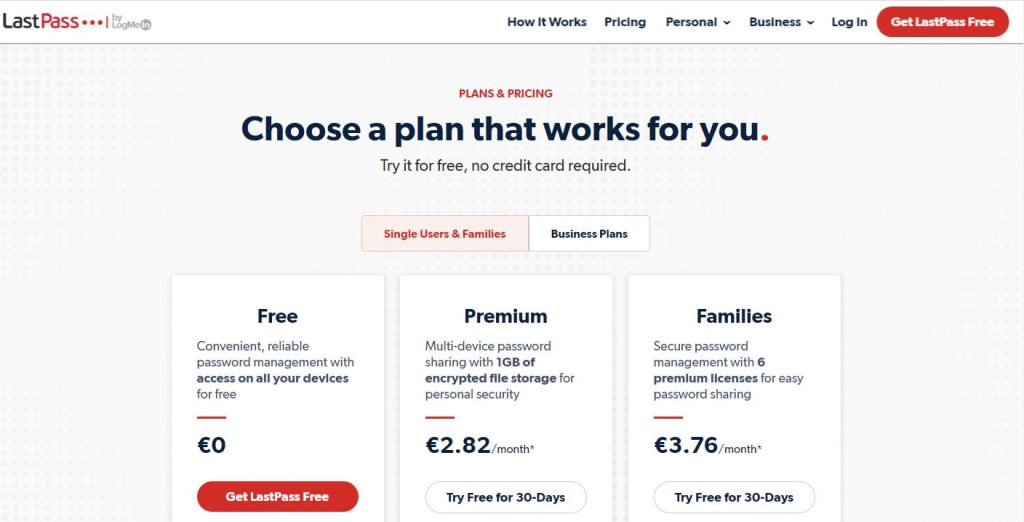 The average computer user has between 70 and 80 passwords. Since you will have multiple accounts to free writing tools, inventing, remembering, and saving all those passwords can be a problem.
Last Pass is an effective and secure method to store sensitive information that indirectly improves your writing. It also generates maximum security passwords. Think of enhancing personal organization and saving brain cells for the meat and potatoes of writing.
As a cross-platform password manager, Last Pass provides access from your computer, tablet, or smartphone. The free version is somewhat limited but still excellent for storing all your account passes and locking them in with a master password.
An easy way to use Last Pass is by installing a browser extension. Once you get used to automatically creating, safely storing, and filling your passwords, you will never look back.
9. Exploding Topics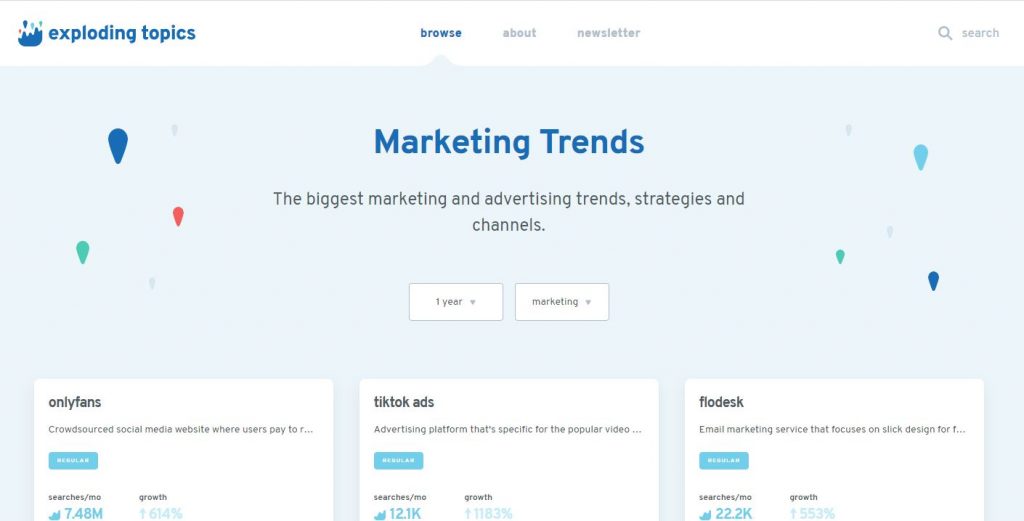 When you constantly design editorial calendars and compete to innovate in a world saturated with great content, producing new attractive topics is a challenge. Readers change their behavior and habits quickly. You need sophisticated AI algorithms to catch intricate interdependencies between data.
If you want to rush ahead before Google Trends and come up with topics no one else has explored, experiment with Exploding Topics. Exploding Topics is one way to stay ahead of the curve. Search for exciting topics, new industry vocabulary, and groundbreaking products and services by selecting the relevant timeline and industry category.
10. Thesaurus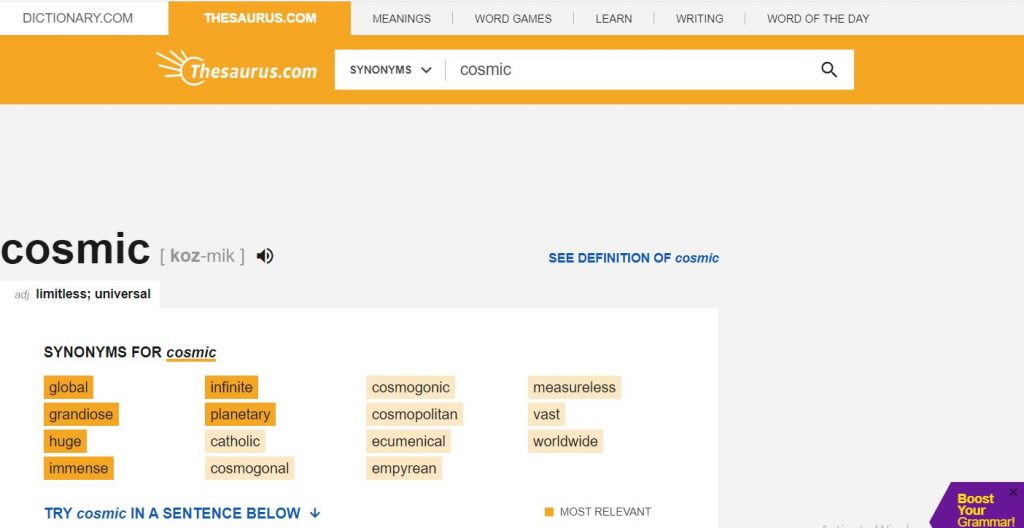 It is not unusual to hit a dry vocabulary spell once you spent years creating similar content. Hence, having a free writing resource for synonyms and antonyms such as Thesaurus stimulates your skills in new ways.
Its impeccable authority among users of online writing tools makes Thesaurus a favorite of advanced writers, as well as of students and writers beginners.
More of the Best Writing Tools for Effective Content Creation
We could continue with this writing tools' list and add dozens of more resources. Yet, using too many is not helpful either. Find your set of best tools and use them to support you in your daily schedule without overwhelming you.
In case you are ready for additional exploration of writing help, here are some extra tips to help your progress:
Install Google add-ons and extensions for better writing:

ProWriting Aid
Text Cleaner

Improve the visual appeal of your content by finding and properly attributing royalty-free images:

Perform reverse image search tools
Write clear, high-ranking alt tags for images

Download free SEO web extensions, for example, the SEO Stack Keyword Tool
Learn how to use Yoast for WordPress to enhance SEO and readability scores directly in the WP Editor
Interested in going beyond the power of writing for content marketing? Find out how to increase sales with video marketing tools.
Aside from using free writing tools, ensure that you spend at least some time each day reading authors, magazines, and blogs and articles by companies you admire. Many of them will be your best teachers, not only in terms of writing style, but also for practicing technical accuracy and creating informative, shared, and liked content.
If you still have doubts about which writing tools to use, schedule a free consultation with one of our experts and you will get a personalized solution to your problem.

---
Sources: