---
If you are wondering how challenging it is to be a tech coordinator at a fast-growing IT support services company such as Cosmic Development, it is time to get to know Atanas Arizanov and learn more about his scope of work, expertise and the way he overcomes the challenges he faces on a daily basis.
Atanas is a software engineer, PHP developer and tech coordinator, who has been with us for more than eight years. He has started his Cosmic career as a PHP developer. At first, he was in charge of building and implementing web solutions for various clients, but thanks to the dedication and professionalism towards work, Atanas soon became Cosmic Development's Internship Coordinator and guided many young professionals who were eager to upgrade their knowledge and experience through the hands-on training at our company. His incredible talent for working with people naturally led him to the next stage of his career – becoming our appointed Technology Coordinator.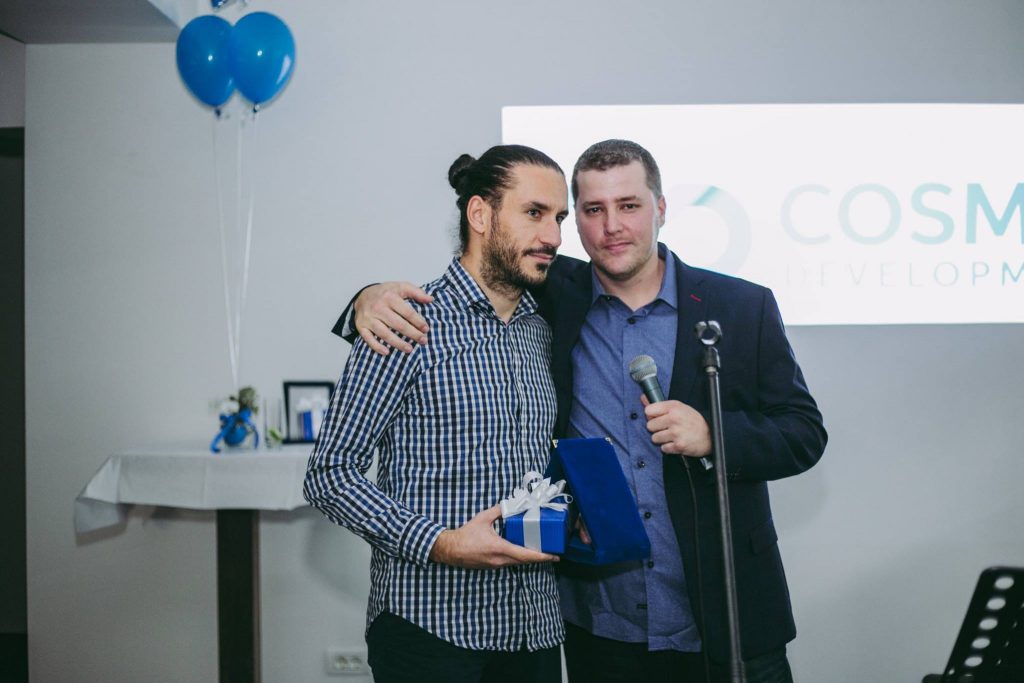 What is the role of Tech Coordinator? Tell us more about your range of duties at Cosmic Development.
The responsibilities of a Tech Coordinator include acting as the link between end-users of a website and the high-level support, while at the same time providing technical support and advice on the most convenient IT choices. Apart from this, the Tech Coordinator of an IT company must not only know how to install and configure both hardware and software but also control the system and network performance. This role requires performing troubleshooting, maintenance activities, data restoration, and repairs. And finally, a Tech Coordinator must also possess excellent communication and people skills in order to solve problems on the spot and to be able to collaborate with other IT pros.
My job responsibilities as a tech coordinator include managing multiple projects, but most of all require regular and consistent communication with internal teams in the company. By this, I mean having weekly meetings with a group of team leads and discussing all the projects included in that group for existing, potential problems and issues, but also the team achievements, their success, and happiness.
What are the 3 top challenges you face as the Tech Coordinator, and how do you overcome them?
Race with time 🙂 I'd say that's the number one challenge for most tech coordinators in our industry. This role requires a lot of time and tons of energy to oversee all of the activities and keep everything under control in this fast-paced, ever-changing "game" of new technologies and innovations.
That leads to the next big test for every tech coordinator – staying calm no matter what. We are all only people, capable of great things but prone to mistakes. Sometimes it's not our day, but we have to do everything we can to control ourselves and not to allow our own frustrations and bad inner energy to pass to our co-workers and influence their workflow.
Last but not least: good organization. Every tech coordinator has to know how to organize their day really well. From time to time, the meetings may overlap as well as the tasks, so one has to make an excellent daily strategy to deliver daily tasks and achieve objectives.
I've been embracing those (and other) challenges for the last five years, and I can only hope that one day I will be able to say that I have mastered them all. 🙂
What is the most valuable thing you've learned working as the Tech Coordinator?
I've learned many valuable lessons since I took the role of the tech coordinator, but if I have to name only one, it would be this – Never make decisions by yourself. Even when you are sure that you are right about something, always consult with your co-workers and team-mates, ask them for their opinion and advice, and truly listen to what they have to say before you make your move. You know what they say: more eyes see better than a pair and more minds think better than just one.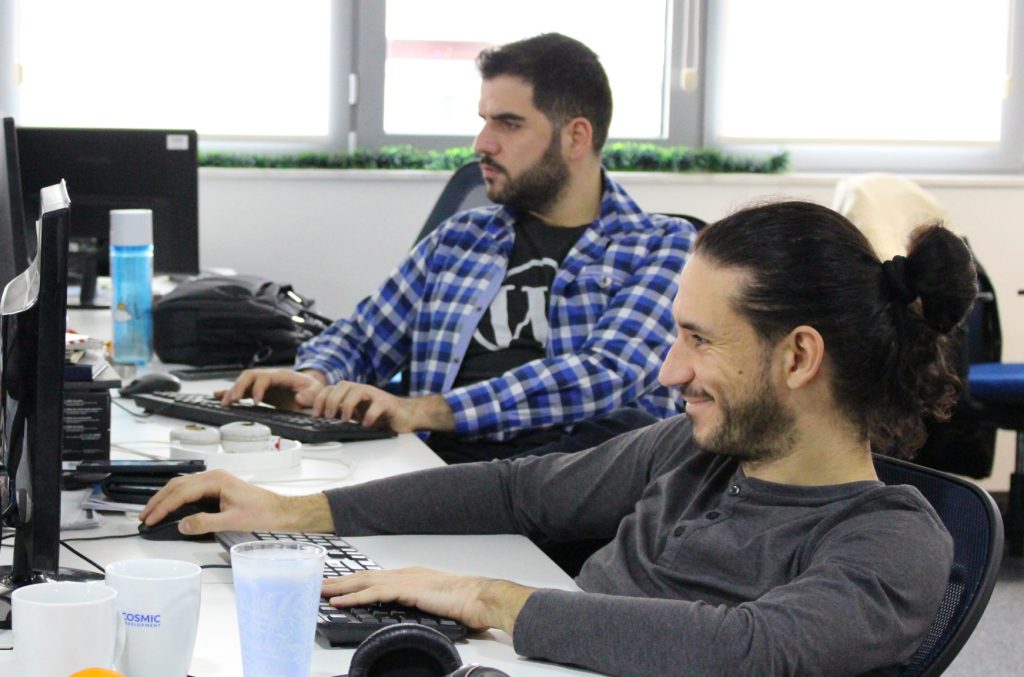 How do you boost your productivity?
Coffee. Always coffee. Actually, several cups of coffee daily 😀 Of course, there are other practical (and perhaps healthier) ways to stay up in the game, like good daily organization and efficient team coordination. Furthermore, open communication with people involved in the projects for which I am responsible is also the key to success. Utilize this advice to boost your productivity and you will be able to accomplish anything.
You've started at Cosmic Development as a PHP developer and worked your way to a more complex role. What was your primary drive for professional and personal development?
Regardless of your current role, improving yourself and getting better at what you do for a living is vital if you want to advance in your career. I would say that my strongest motive is the desire to learn new things and grow my knowledge and skills. The best way to increase your professional and personal qualities is through hard work and aspiration for achieving a better version of yourself. Moreover, the constant will to improve and reach a higher level both as a human being and as a professional in the IT industry is what keeps me moving forward, one step at the time.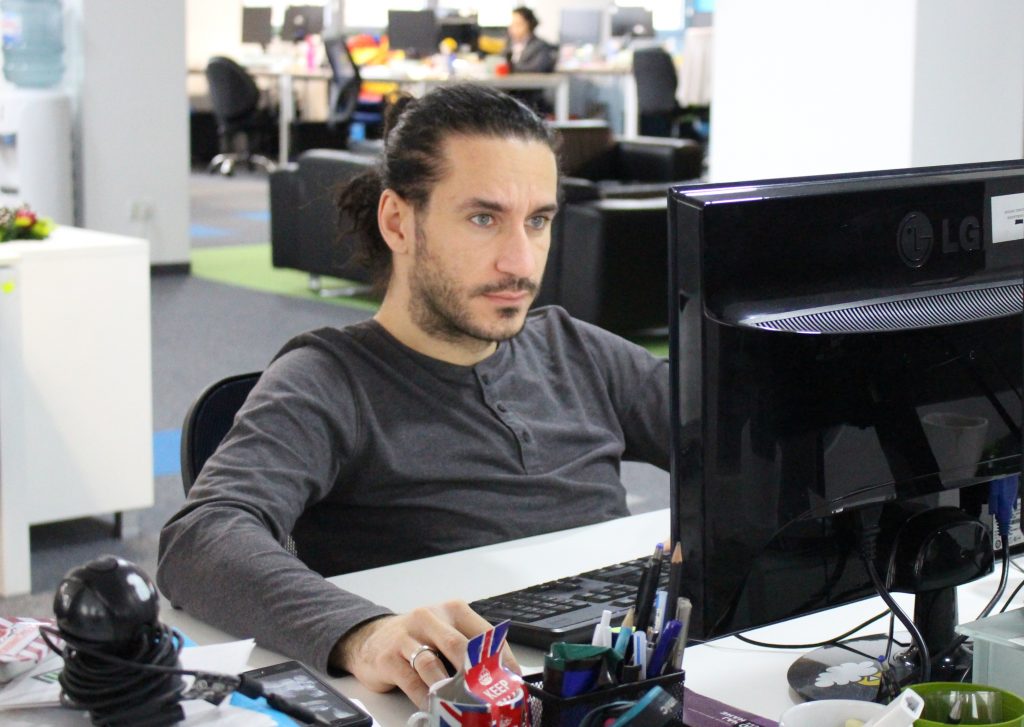 What is the most valuable advice you have to offer to your younger colleagues?
At the risk of sounding cliché, I'd say that the most important advice I have to offer to my co-workers is a straightforward one: always work hard, follow your dreams, stay in touch with yourself and do what makes you happy. If coding makes you happy – go for it. In case you feel you are the proper fit for the company you work for – revel in it. If you think that you are a valuable asset for the team – commit yourself to it. Do whatever it takes to upgrade yourself and constantly keep pushing forward. Prepare for the hard times as well, because after all, where's the challenge if things are too easy?
What do you like the most about your current role? What are you working on currently?
I genuinely enjoy having a job that I find meaningful and engaging, and which makes me fulfilled. The role of a tech coordinator gives me exactly that feeling of inner satisfaction and that is what I love about my job. Currently, I work on several projects that keep me occupied and engaged. One of the biggest perks of my job is the freedom to provide ideas and solutions for a range of different problems and help my colleagues on a daily basis. Another, less exciting but equally important part of my job is project planning, scheduling meetings, managing teams, developing and implementing deliverables, monitoring, and reporting.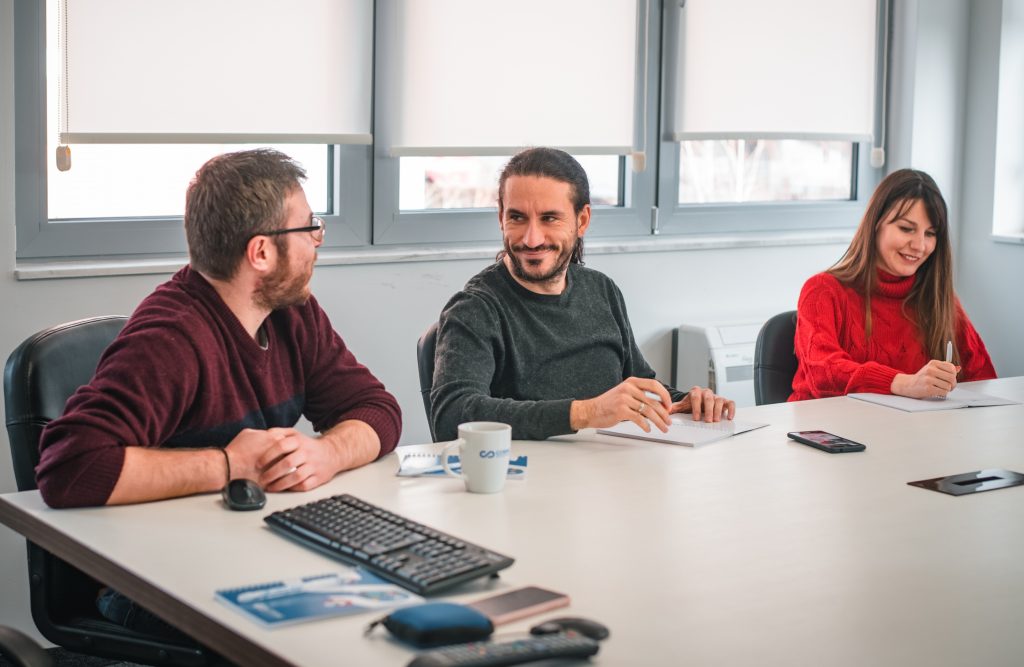 Besides being an incredible professional, Atanas is also a caring husband and devoted father to their only child, and a massive fan of hard rock and metal music. How do you manage to balance between the technology coordinator position and the role of a father now?
The work experience that I have gained over the years as a tech coordinator helps me do things way faster than I used to do. Thanks to the direct and open relationship with the clients, it's easy for me to communicate and be honest with them and their requirements. The role of a father made my life more fulfilling and happier, but it also encouraged me to learn to balance things, to enjoy the smallest of things, and appreciate the time I get to spend with my family. Balancing my job position and the role of a father is something that you learn on the way. And while doing so, you realize that both of these things require good organization and communication skills and a sense of knowing when is the right time to do something.
Which superpower do you wish you had?
If I have to choose only one, it would definitely be the superpower of teleportation. Traveling to far-off places without physically crossing the space between would be ideal for me. Teleportation will enable me to do multiple things in multiple places, and see things from a different perspective. Teleportation will contribute to global transportation and people will be able to enjoy the world without borders.
What's your favorite band and what's the best concert you've ever been to?
This is probably the toughest question of them all !!! 😀 I have a couple of favorite bands which I love and respect a lot. But if I have to choose one out of my list of favorites, then I have to say that my most favorite band is Amorphis. I have attended many of their concerts over the last few years and each of them is a story for itself and has its own beauty. Amorphis's last concert in Sofia is what left me impressed and astounded. It was an amazing one!