by Katerina Bogdanoska
How to hire software developers in 2021? If you are struggling with hiring developers and you are unsure where to start, we have put together a short guide to help you find talented developers who will be an excellent fit for your company.

Hiring software development talent has proven to be quite challenging in 2021. With the rise of technology and rapid digital transformation across businesses spurred by the COVID-19 pandemic, rising customer expectations, and transition to remote work, the need and competition for skilled tech experts are proliferating. Whether back-end, front-end, or full-stack, software developers are the fundamental building blocks of any organization whose business operations rely on software. Today thousands of companies compete to recruit and retain from the limited pool of high-quality software developers. It is no wonder it is a costly and time-consuming process. This high demand is projected to continue in the coming years and grow 21% by 2028, as reported by the US Bureau of Labor Statistics.
In this article, we'll give you some insights on what makes a great software developer and how you can make the whole hiring process much more manageable. Lastly, we'll offer our valuable experience to help you find the right for your business needs. Read on.
What Does a Software Developer Do?
First, let's clarify what a software developer does and why this profession is essential and sought-after.
In simple terms, a software developer, also known as a programmer or coder, uses programming languages to create computer software programs. An excellent software developer should be creative, have a passion for learning and development, and have excellent communication skills. Above all, it must have exceptional technical skills.
Although their duties and responsibilities may range depending on the type of organization and industry they work for, as well as their experience level, they are engaged in all stages of the software development life cycle and generally include tasks and responsibilities like:
Gathering and evaluating user requirements
Creating efficient and clean code based on consumers' and clients' needs
Testing code
Fixing, maintaining, and improving existing software
Communication and collaboration with management and tech support colleagues
Compiling and assessing user feedback to improve software performance
Developing technical documentation for reference and reporting
What Makes a Great Software Developer?
The best software developers of today have a good mix of technical proficiency and soft skills. They are able to figure out solutions to problems at any stage of the application development at any time. Beyond knowing programming languages and being excellent at writing code, there are other significant skills and qualities outstanding software developers have in common. Here are the traits that can differentiate a great software developer from a good one and that can help you identify one that would make a great addition to your programming team:
1. Strong communication skills
The capability to communicate complicated ideas clearly and precisely is essential in the development process. The developers should be capable of interacting with people and explaining themselves to non-technical stakeholders and other developers. They should convey and understand problems clearly, break down complicated ideas into simple concepts and propose solutions.
2. Quick learning and curiosity
Acquiring new skills is essential for developers. Being a great software developer requires constant practice and dedication. Technology is the innovative branch that is constantly evolving, so developers must be curious, learn quickly and adapt; otherwise, they will be left behind. The best programmers have the ability to learn new languages and technologies quickly, process information, and above all are amazing self-learners. Successful programmers are willing to admit they don't know and are not afraid of new technology trends.
3. Broad technical experience
Technical expertise is fundamental for software development. Technology is a broad field, and there are numerous tools, platforms, and languages a developer must master and integrate in order to make a good product or software. Professional software developers need a combination of technical skills to succeed. Here are some of the skills software developers are expected to have in 2021:
Cloud platforms
Programing languages like Python, C++, Java, and CSS
Data Structure and Algorithms
Database and SQL
Computer networks
Software testing
Operating System
SDLC (Software development life cycle)
Keep in mind that this is no complete list, and you shouldn't expect that a good software developer has experience in working with all these technologies; however, it provides a good starting point.
4. Team player
The ability to help teammates when there are stuck and teach them new skills is a quality of top software developers. Teamwork is crucial for software development, especially in cases when the project has time and budget constraints. When developers on your team lean on each other, the success of the project is inevitable.
5. Time management
Time management is a valuable skill that every aspiring software developer should develop. The ability to use time effectively and efficiently increases focus and productivity. Plus, it reduces distractions and procrastination and lowers stress. A great software developer has a strong work ethic and organizational skills and respect deadlines. Time management is a significant factor in software development because it can influence the outcome of the whole project.
6. Business sense
When combined with technical expertise, business acumen can be a great advantage. Business-savvy developers understand how the business works. They are able to analyze business problems and make quick, precise, and profitable decisions, and deliver technology-focused on customers' needs.
The characteristics we mentioned above are just a few the most wanted and are practical guidelines that can help you hire the best software developers.
How to Hire the Best Software Developers?
Most businesses today depend on software development and the people behind it. Hiring the best software developers is one of the biggest technical challenges for today's recruiters. Software development is a complex and fast-paced field, and the people you hire determine the success of your project. The selection process can be a laborious, slow, and expensive process.
If you are a company that needs fast access to talented developers that will fit your team, drive your success, and provide you with a competitive advantage, you need to look beyond traditional hiring practices. Outsourcing software development is a cost-effective and flexible solution that can save the headache of talent shortage and bad hires. The right outsourcing partner can help you find highly skilled candidates fast. It will support growth without the need for significant investments in new hires, technologies, and IT infrastructure.
Hiring Skilled Software Developers with Cosmic Development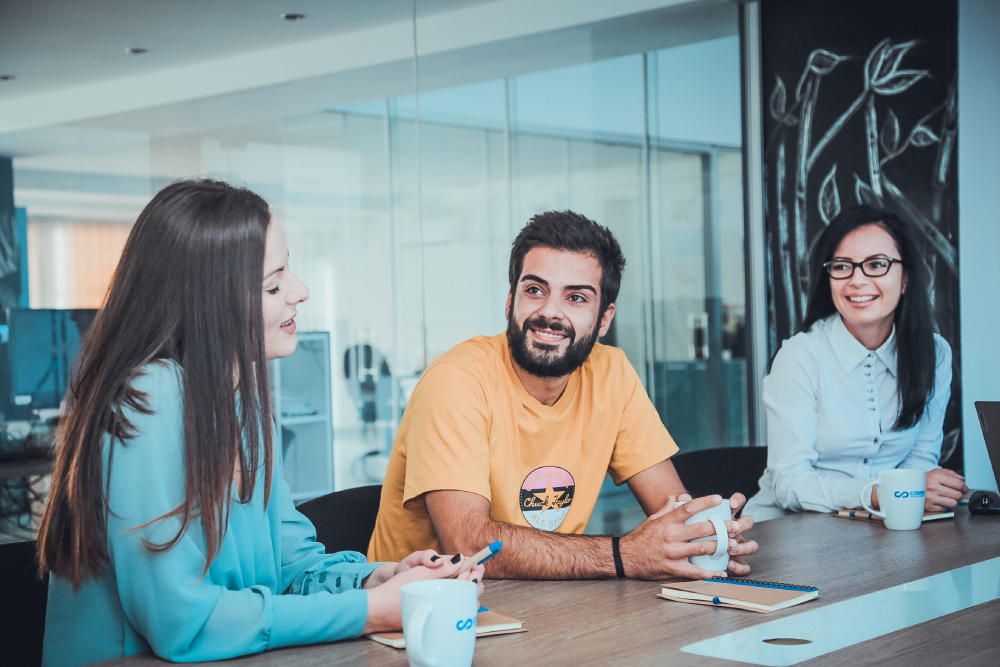 Building a solid team of experts is imperative for business success, regardless if you are a startup or a well-established enterprise.
Cosmic Development is an IT outsourcing and software development company with more than ten years of experience. We can help you build software development teams quickly and affordably, and we will ensure their skills and commitment to work. With Cosmic Development, you are just a click away from finding the right talent. Contact us today to learn more about our development services.