by Katerina Bogdanoska
---
In the ever-evolving world of technology, there are individuals who excel and find deep satisfaction in their roles. At Cosmic Development, we take pride in having team members like Dragan Begovski, a Senior PHP and Node.js Developer, who epitomize this exceptional combination.
Dragan's fascination with computers sparked his passion for problem-solving from a young age, paving the way for his journey into web development. This field allowed him to bring ideas to life and make tangible differences in people's lives.
The dynamic nature of web technologies, which are constantly evolving, keeps Dragan engaged and continuously learning. There is always something new to explore, whether a new programming language, framework, or best practices.
Cosmic Development's reputation, collaborative culture, and challenging projects drew him in, where he now excels in crafting robust web applications. Beyond code, Dragan is a mentor, a family man, and an adventure enthusiast, striking a remarkable balance between his tech-driven career and his zest for life. Join us as we delve into Dragan's inspiring career path and life at Cosmic Development.
What inspired you to pursue a career as a full-stack developer?
I have always had a passion for technology and problem-solving from a young age. Growing up, I was fascinated by computers and how they worked. Delving deeper into the world of technology, I realized that building web applications and websites can be a powerful way to create meaningful and interactive experiences for people.
What inspired me to start a career in web development was the ability to bring ideas to life and have a tangible impact on people's lives through technology. I saw the potential for creating apps that could simplify their tasks, connect people, and provide valuable services. This combination of creativity, problem-solving, and the ability to have a positive impact motivated me to enter the programming field.
Additionally, the very nature of web technologies that are constantly evolving and the endless possibilities they offer fascinated me. There is always something new to learn, whether it's a new programming language, framework, or best practices. This landscape, which is constantly changing, keeps me engaged and continuously learning, which I'm really into.
Over the years, I have honed my skills in PHP and Node.js because they are powerful and widely used technologies in web development. They allowed me to build robust and scalable applications to meet the needs of different projects. Overall, my passion for technology, the opportunity to make a positive impact, and the dynamic nature of web development has been the driving force behind my career in this field.
What attracted you to join Cosmic Development?
Reputation and culture, working on challenging projects, work-life balance, collaborative environment, opportunities for remote work, flexible working hours, and benefits are some of the main factors that pulled me to join Cosmic Development.
Could you share your overall experience at Cosmic and your experience so far?
When I joined Cosmic Development, I started working on a Laravel project, which was something new for me. Still, my previous experience with the Sails.JS framework and PHP was a sound basis for me to quickly master the Laravel Framework and become responsible for the entire project.
Tell us more about your current project – the Internal HR software tool, the first product of Cosmic Development.
Cosmic HR project is an internal application built on the Laravel Vue.Js stack developed to facilitate the internal operations carried out in the company, like making time off requests from employees, submitting evaluations, recruitment process, and other operations.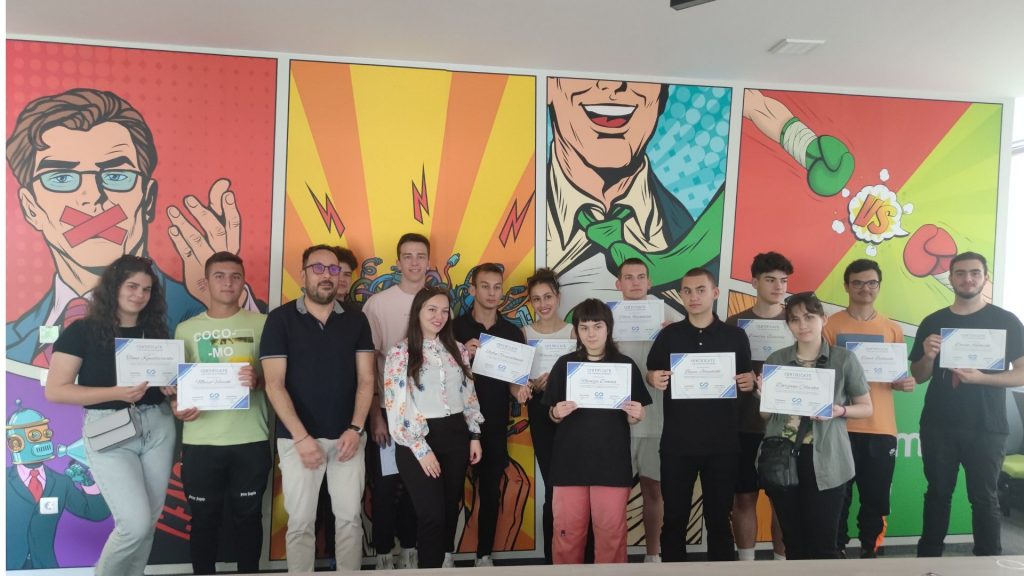 Share your experience as a mentor for the internship program at Cosmic Development.
Being a mentor comes with various challenges due to the technical nature of the field and the diverse range of skills and experiences that mentors need to have, like good communication and leadership skills. As Cosmic Development's internship mentor, I aim to help interns become proficient programmers and develop a strong foundation in programming principles and practices. Last year, we successfully finished our first internship program with students from the Technical High School "Gjorgji Naumov" from Bitola. I am happy that students could build their first application at the end of this internship program. Next year, we continue with another internship program to help the young generation find their path in the IT field.
Who is Dragan outside the office?
Out of the office, I'm a father of two kids and always on the move, trying to handle all my responsibilities and keep a good and healthy life balance at the same time. I love spending time with my family and playing video games with my kids.
I love to travel and make plans for my next trip. My next destination is Lisbon, Portugal. I love to spend my time in the mountains for the winter weekends to ski and make snowballs with my kids. When the snow recedes, I start to prepare for the upcoming marathons. I just ran 21km half-marathon on TrcajBe, my next target is a 42 km marathon. My guitar and my bike are still my good old friends. Reading a good book is always welcome. Latest read: Atomic Habits by James Clear. Also, drinking good coffee with friends is something that I usually do.
Join the Cosmic Development Community
Dragan's journey into web development is a story of inspiration, impact, and continuous learning. It is also a testament to Cosmic Development's commitment to nurturing remarkable talents and driving innovation.
As we celebrate Dragan's journey and his invaluable contributions, we invite you to join our Cosmic community. Connect with us today to explore career opportunities that align with your aspirations and expertise. We always seek talented and motivated people who share our vision and values.