by Katerina Bogdanoska
---
In the dynamic landscape of the IT industry, where competition is fierce and adaptability is crucial, companies increasingly recognize the significance of investing in their employees' personal and professional growth.
According to LinkedIn, a remarkable 94% of employees want to work for a company that prioritizes and invests in their professional development.
This highlights the mutual importance placed by both employers and employees on continuous growth and learning opportunities.
Why Are Soft Skills Workshops Essential for Employees in 2023?
Soft skills training is essential for employees in 2023 as it equips them with the necessary interpersonal and communication skills crucial for success in the modern workplace. While technical expertise remains valuable, employers increasingly recognize the significance of effective communication, emotional intelligence, teamwork, adaptability, and problem-solving skills.
These skills enhance employee productivity and job satisfaction and contribute to building a positive work culture and strong professional relationships.
Empowering Our Workforce through Dynamic Soft Skills Workshops
Cosmic Development has always been a company that acknowledges the importance of investing in our employees' knowledge and skills. Besides the numerous options we offer as part of our learning and development program, over the past months, we have organized a series of soft skills workshops led by internationally renowned management and business consultant Mihail Kitanovski to educate and empower our workforce.
The workshops have covered a wide range of topics, from Effective Communication Skills and Holding Difficult Conversations to Dealing With Difficult People, Emotional Intelligence and Empathy Skills. Among them, Emotional Intelligence & Empathy Skills stood out as transformative and impactful and has garnered exceptional feedback.
These workshops are a powerful tool that serves as a catalyst for growth, innovation, networking, and team bonding.
Why is Emotional Intelligence Necessary in the Workplace?
Emotional intelligence is a critical factor that significantly influences individual and organizational success. Studies conducted by the World Economic Forum have shown that 90% of top performers in various industries have high levels of emotional intelligence.
Moreover, TalentSmart's study found that emotional intelligence surpasses 33 other critical workplace skills as the strongest predictor of performance, accounting for an impressive 58% of success in all job types.
This highlights that technical expertise alone is no longer sufficient to thrive in today's corporate setting. Cultivating a workplace culture that values emotional intelligence establishes a strong foundation for long-term success, fostering happier, more productive, highly engaged employees.
Understanding the significance of emotional intelligence and empathy skills, we spotlighted our Emotional Intelligence workshop, which has received exceptional feedback, and highlighted its immense value.
Emotional Intelligence Workshop: Empowering Individuals, Elevating Performance
In April, Mihail Kitanovski led a dynamic and engaging workshop on Emotional Intelligence and Empathy Skills at our company. It was a one-day training aimed at helping employees experience a more positive workplace environment, develop stronger social skills, build better relationships, and achieve personal or team goals more consistently.
Participants gained invaluable insights and practical knowledge, discovering the difference between EQ and IQ, understanding the four intelligence quadrants, and learning about the phenomenon of "amygdala hijacking. They also had the opportunity to explore the five components of emotional intelligence, recognize their emotional reactions to events, and apply techniques to reframe their perspectives. Empathy skills were a key focus, emphasizing the importance of understanding the impact of tone of voice and non-verbal cues. Participants practiced reflective listening and developed techniques to listen effectively to challenging speakers.
Collaboration with Mihail Kitanovski and KITANOVSKI & D2EM Consulting
Partnering with the best in the industry to deliver value to our employees is vital for Cosmic Development. That is why we have established a fruitful collaboration with Mihail Kitanovski, an international management and business consultant, CEO, and owner of KITANOVSKI & D2EM Consulting. With his vast experience and expertise, Mihail brings a fresh perspective to the workshops and provides valuable insights. This partnership has become the foundation for our successful journey of knowledge-sharing and personal growth.
"Our partnership with Cosmic Development is driven by a shared vision to unleash the extraordinary within individuals and organizations," shares Mihail. "Through our workshops, participants gain invaluable knowledge, skills, and strategies to navigate today's business landscape complexities. Together, we are dedicated to unlocking the full potential of each individual and cultivating a culture of growth and success. It is truly an honor to be part of this transformative journey."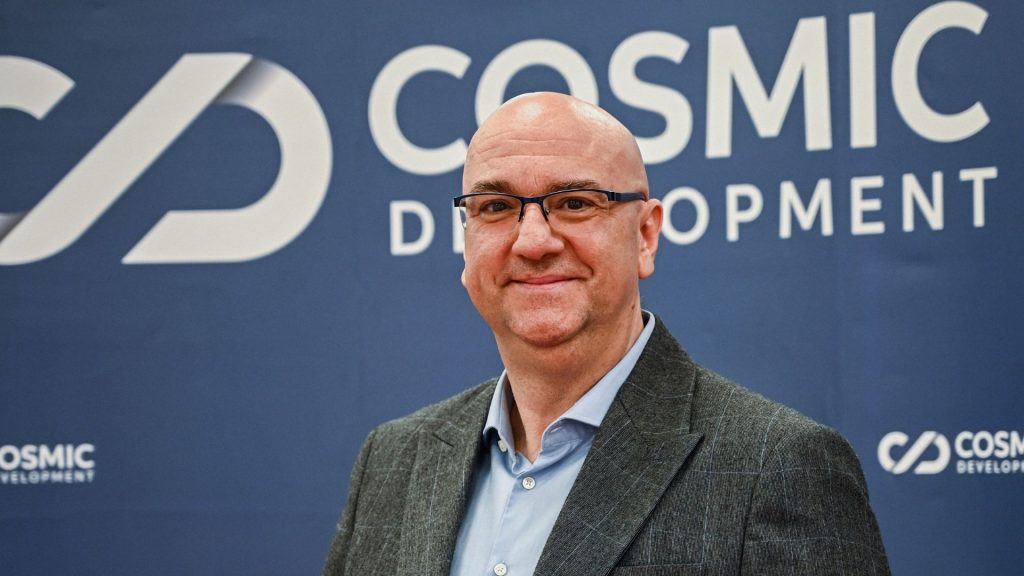 Cosmic Development's Journey Towards Empowered Workforce
As we look ahead, we remain committed to providing our employees with continuous learning opportunities and supporting their personal and professional growth.
We will continue developing essential non-technical skills because we know that success goes beyond technical expertise. By nurturing these skills, we create a positive impact on both our employees and the overall success of Cosmic Development, fostering a workplace environment that thrives with harmony and achievement. And as we continue to organize workshops, we invite all our employees to seize the opportunities presented.
Take a step towards unlocking your potential, and join us at Cosmic Development
Discover a workplace culture that values your well-being and empowers you to thrive. Let's create a future where success goes beyond technical expertise and your talents are nurtured and celebrated. Join our dynamic team and embark on a transformative journey of growth and success. Visit our website and contact us today to learn more about opportunities with Cosmic Development.