---
The Coronavirus pandemic spread rapidly all over the world and it caused us to stay at home in isolation so that we can keep safe from it. To help our employees deal better with the Coronavirus situation, we gave them advice on how to adjust to the idea of working from home and how to spend their isolation time more productively. Therefore, Cosmic Development decided to implement interactive online social tools in order to help our employees beat isolation. We decided to organize online contests and events for all our locations. In other words, Cosmic invited employees from Toronto, Skopje, Bitola, and Belgrade to participate in these online contests and events, and spend more time together with their colleagues. Read more below if you want to know more about how our employees beat isolation.
Cosmic Online Contests
The rules of these online contests are very simple. Employees are supposed to take photos or videos of the activity they do in order to prove that they are worthy candidates for the contest. The photos and videos must be from the beginning of the work-from-home policy. Any employee who provides photos or videos taken on a date prior to the Coronavirus pandemic will be disqualified. The employee who will be proclaimed the winner will receive a prize upon the return at work in one of our Cosmic offices. The online contests organized by Cosmic are the following:
Most active employee
Best creative parent
Most ambitious employee
Best entertainer
Best photographer
Most Active Employee
The first round of the Cosmic Beats Isolation online contest is titled: Most Active Employee. The purpose of this category is to see how our employees spend their free time and whether they use it to keep themselves active, healthy, and most of all, happy. On the one hand, our employees could participate in this contest if they have developed new hobbies during the Coronavirus pandemic such as making handmade jewelry, handmade accessories, and clothes, writing poetry, painting, etc. On the other hand, our employees who have a fully amazing free sports time can also participate in this online contest, especially if they practice any type of sport at home (yoga, pilates, cardio), if they cook new recipes and eat healthy food prepared by themselves, or simply if they play logic and fun games with their families.
Our most active employee during the isolation period is Milan Andreev. He provided us with photos of all the sports activities he does on a daily basis. He stays 100% physically active: he jogs, hikes, walks in nature, climbs, and most importantly, he motivates other colleagues to stay healthy during isolation and start being active. Well done Milan, you truly deserve this award.
Most Active Employee – Milan Andreev
Most Creative Parent
The second round of the Cosmic Beats Isolation online contest is titled: Most Creative Parent. The purpose of this category is to see how our employees spend their time at home with their children and what they do with them. We know that it is very challenging to keep our children at home all the time and make them stay engaged and happy during this isolation period. So, instead of letting them go out and playing with other kids, we – the parents – must find ways to keep our children engaged, and that includes us playing with them. To become the most creative parent in Cosmic, our employees need to take photos or videos of playing interactive games with their children at home, painting or drawing with them, helping them in the learning process and homework assignments, encouraging them to create handmade decorations or toys, and any other interesting ideas.
Stay tuned to discover who will be the winner of this category and what will be the next one.
Cosmic Recommends: TV Series
To find a way to stay at home in isolation and keep oneself occupied, we decided to create a Cosmic Recommends section. We asked our cool Cosmic employees to share with us which TV series they prefer. It's nice to get a glimpse of our colleagues' preferences during this Coronavirus period. By doing this, we also offer our readers a list of the most popular TV series among our employees that they can watch during the isolation period.
Cosmic Recommends: Food
While working from home, our Cosmic employees also work on their cooking skills and either develop their existing passion for cooking or they experiment with new hobbies. Either way, our VP of Engineering – Petar Shokarovski, who also has his own cooking blog, decided to share with us his recipes for Ratatouille and Eggs Benedict. Check out the photos below.
Gaming Wednesday
Cosmic decided to make Wednesdays more fun and introduced several games that are available to all of its employees, regardless of their location in the world. We call these days Gaming Wednesdays. For instance, we have played two online games as part of our Gaming Wednesday tournaments, on request of our employees. We always welcome new suggestions from our employees. As a result, they have the chance to suggest new games every week.
The first gaming tournament is in Counter-strike. Our male employees get to enjoy a good Counter-strike game along with their colleagues from other Cosmic offices. We also invite our female employees to join this tournament and spend several hours playing this game after working hours.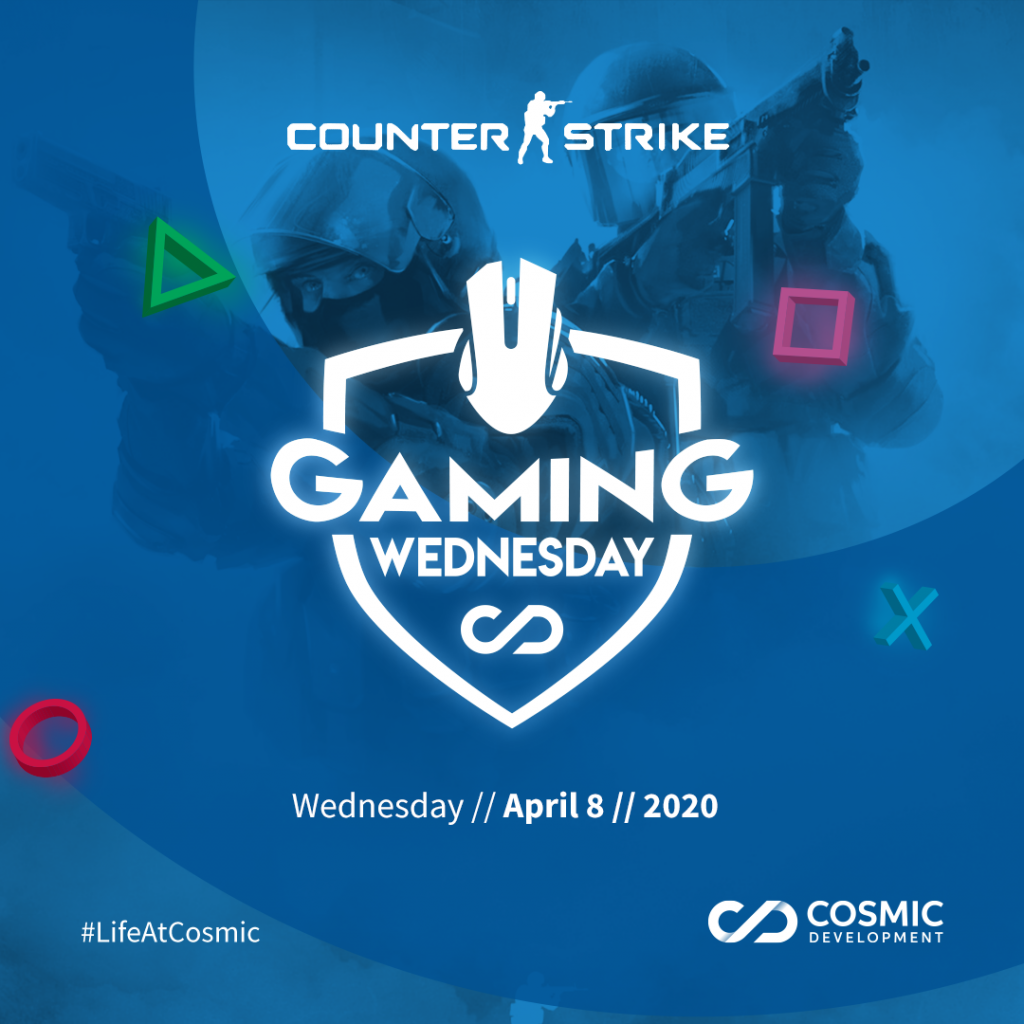 The second game of our Gaming Wednesday event is Pictionary. This game is inspired by the famous charades game when one player draws a word that is written on a piece of paper. However, this time, since it is an online game, the goal of the game Pictionary is for one person to draw a picture of the object they choose and let the other players guess what the drawing is. Therefore, employees need to think of a thing they like to draw, write the name of the thing in the program, and start drawing. The person that draws the word of their choice is not allowed to use letters, numbers, or words to explain the drawing.
Cosmic Bar
We reserved the last workday of the week for our Cosmic Bar online event. Every Friday we organize an online party at a virtual Cosmic Bar where employees from all offices can hang out and enjoy the company of their colleagues. The only requirement to participate in the Cosmic Bar online event is to provide a drink of your own choice and be present in front of your computer or laptop at the designated time. The rest is our job. We play online drinking games such as "Never Have I Ever" and have fun after a long week of hard work from home. The rules of this game are probably familiar to many: for instance, one person says something they have never done, and everyone who has done that thing takes a drink.