by Monika Rizovska
---
To use the global tech for good and to create a better world and future is a guiding principle that should be embedded in every company's values. As the situation with COVID-19 continues to present many concerns for the families, countries, and businesses around the entire world, we need to consider how to use this situation and create something meaningful in a collaborative effort in response to the crisis.
Please read our blog for Economic Crisis and Recession During COVID-19
Providing meaningful leadership by innovative long-term solutions through joint effort and business support, we can level up with the benefits of the innovative technologies, techniques, and talent to empower communities working to overcome society's toughest challenges.
In order to make a sustainable and scalable impact, businesses have to focus on Company Social Responsible (CSR) ideas. The applied Artificial Intelligence and cloud together with agile technologies, and design thinking can help create meaningful community impact by co-creating internal and external innovations.
Looking into the principles are more likely to produce resources for positive social impact that are useful, durable, designed thoughtfully, and honestly address a critical societal need. Discover more about how companies might best seize their sales in this article here.
It is not just Cosmic Development that believes in the power of global tech for good. Many entrepreneurs and businesses always explore new ways of using tech to create a better world. Many companies organize initiatives as innovation weeks, creative weekends, hackathons for problem-solving challenges, and open sessions for sharing insights.
The Power of Global Tech for Good
Our latest open session is the free upcoming webinar "Global Tech for Good" focused on good case practices of startups that leveled up during this period together with the initiatives:
Ways2Help is an initiative where one of our colleagues got inspired by our internal employee initiatives and donations. As a winning solution of Startup weekend COVID edition for 2020, it was also noticed by Techstars as one of the world's best tech solutions for helping everyone in need during the COVID situation. Ways2help created a collaborative tech platform that unites all organizations for donations for families in need. Cosmic Development is proud that as a company, it motivates employees and gives them space to innovate and support activities for creating tech solutions for making our world a better place.
The internal Innovation Week in Cosmic Development is a joyful experience for each of us since it boosts our problem-solving mindset and brings another experience and dimension. It is crucial to leave space for innovation internally, as well. There are always improvement needs. We suggest every company to organize at least once per year an event that brings people together in a creative way to use tech for good and possibly create a new product. The winning solution in Cosmic Development is in the process of finalization, and the winner did not stop at the end of the Innovation week.
Webinar for Global Tech for Good. We believe that good ideas and good initiatives are worth sharing. Thus, we love hosting and sharing webinars that bring value, inspire and boost our innovation spirit, design thinking, and challenge ourselves to create something meaningful. We invite you to join our free webinar, register here to receive recordings, and an e-book with useful advice on how to grow your business.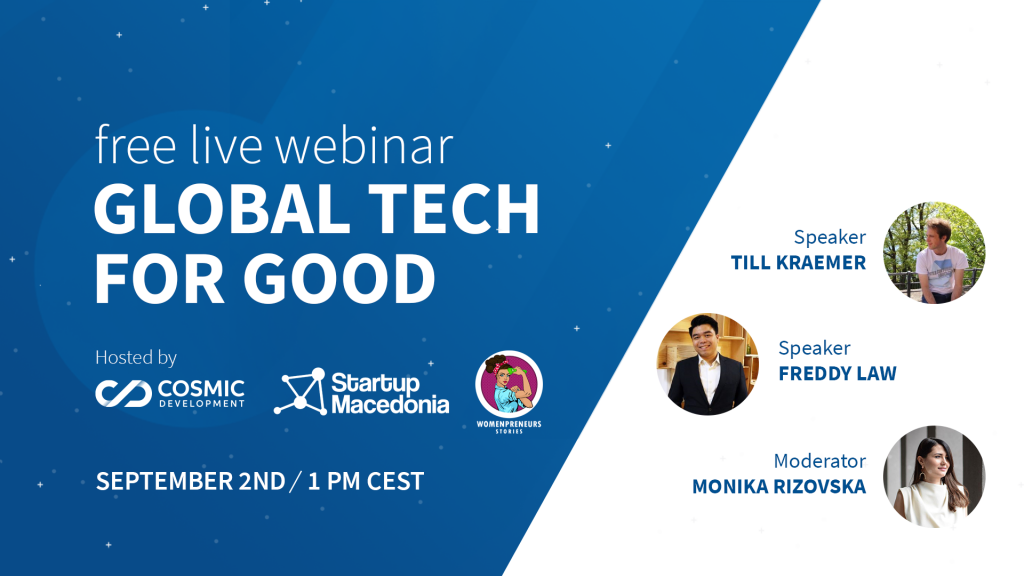 How can Global Tech for Good Help
There are several areas where tech can improve well being and smooth disruption. Many initiatives illustrate what's possible when technology and talent are applied for a positive impact through companies, organizations, and institutions. The following technologies have proven Global Tech for Good applicability:
Artificial Intelligence and analytics include natural language processing, and it can be used to tailor classes to individual students, adjust the level of understanding, and measure the student's progress. Artificial Intelligence can also shorten administration for teachers, freeing up their time for more interaction and communication.
Platforms for interaction, including mobile applications, are crucial. By now, there are many matching platforms for recruitment, but this also opens space for creating valuable service for people that could not have access to it before.
Robotics is significant support of opportunities and sustainability. The technology also provides inclusiveness. Advanced robotics helps people with specific disabilities to communicate with others and increase mobility, for example.
To genuinely drive impact, work for, or with businesses using technology responsibly and create dignified employment opportunities for under-represented communities.
The Impact of Technology on the Process of Digitalization
Technology has a significant impact on improving the overall process of digitalization, improving our knowledge sharing and education together with our health and wellbeing. The possibilities range from AI-powered sensors to personal tracking of each lifestyle change that is monitored via health, and the improvements can be tracked. Technology can also ease access to health, including telemedicine, and create new efficiencies and reduce waste in healthcare systems, whose rising costs are increasingly affecting living standards and putting pressure on public finances in some countries.
CSR should be built as a core value of every company. As evolving every organization might be, the CSR initiatives must be from the heart and in line with the core companies' activities to meet the emerging needs of communities around the world and the world issues we face. By applying data, knowledge, programming power, and actionable insights, we can all help to solve severe problems. There are also advantages of using data and Python programming language. More about it here.
From webinars and talks to summits, innovation weeks, and all-year-round events, we love to promote the impact of design thinking, innovation to change our world.
Thinking like a social innovator encourages people to consider the ethical and empathic aspects of making things. Technology alone is never the answer. But technology is a necessary part of solving every big and complex problem. Together, collaboratively, we can find better ways to help and use tech for good, and we also offer a free consultation.

See how we can support you achieve your goals and join our free insightful webinar for Global Tech for Good here.
---
Sources: